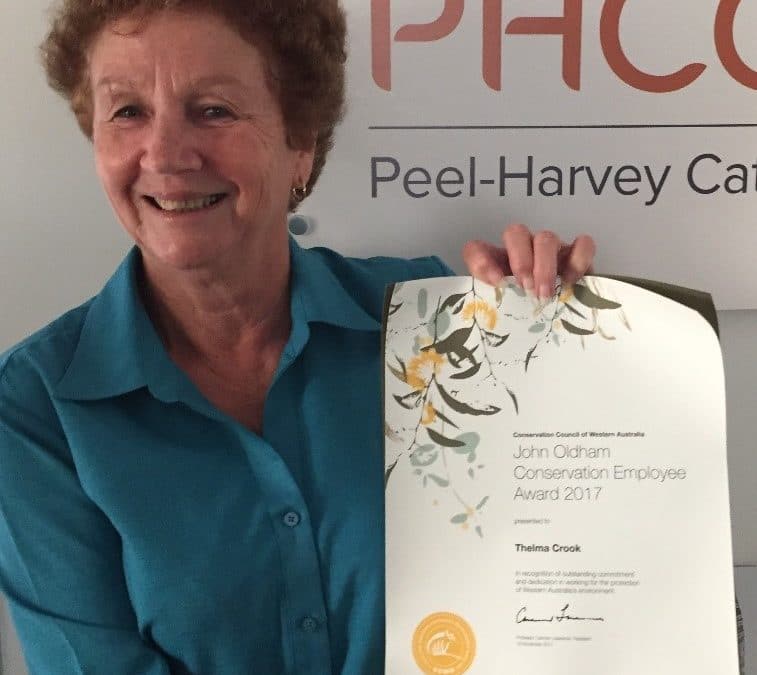 20 December 2017…Thelma Crook is the worthy recipient of the 2017 John Oldham Conservation Employee Award, in recognition of outstanding commitment and dedication in working for the protection of Western Australia's Environment. The award was presented by former Premier of WA and Conservation Council WA President, Carmen Lawrence on Saturday 18 November.
Thelma has dedicated almost 30 years to working and volunteering on environmental projects in the Peel-Harvey Region. As the PHCC Program Manager, Thelma played an integral part in securing more than $4 million in funding, guiding significant on-ground works, bringing key partners together and engaging the community.  Building and fostering partnerships with local Noongar groups, Thelma has earned a great amount of respect and is much cared for by our Noongar and overall community.
Colleagues, friends and partners of PHCC would like congratulate Thelma on winning the 2017 John Oldham Award and, as a highly regarded team member, extend their thanks to Thelma for her years of commitment, dedication and enthusiasm.
An esteemed professional, a caring community member and a keen advocate for environmental action, Thelma embodies the true spirit of the PHCC's motto, "People Working Together for a Healthy Environment".
Congratulations Thelma!
ENDS
Media Contact:  Jane O'Malley, Chief Executive Officer, Peel-Harvey Catchment Council, Jane.Omalley@peel-harvey.org.au, (08) 6369 8800
We acknowledge the Noongar people as Traditional Custodians of this land and pay our respects to all Elders past and present