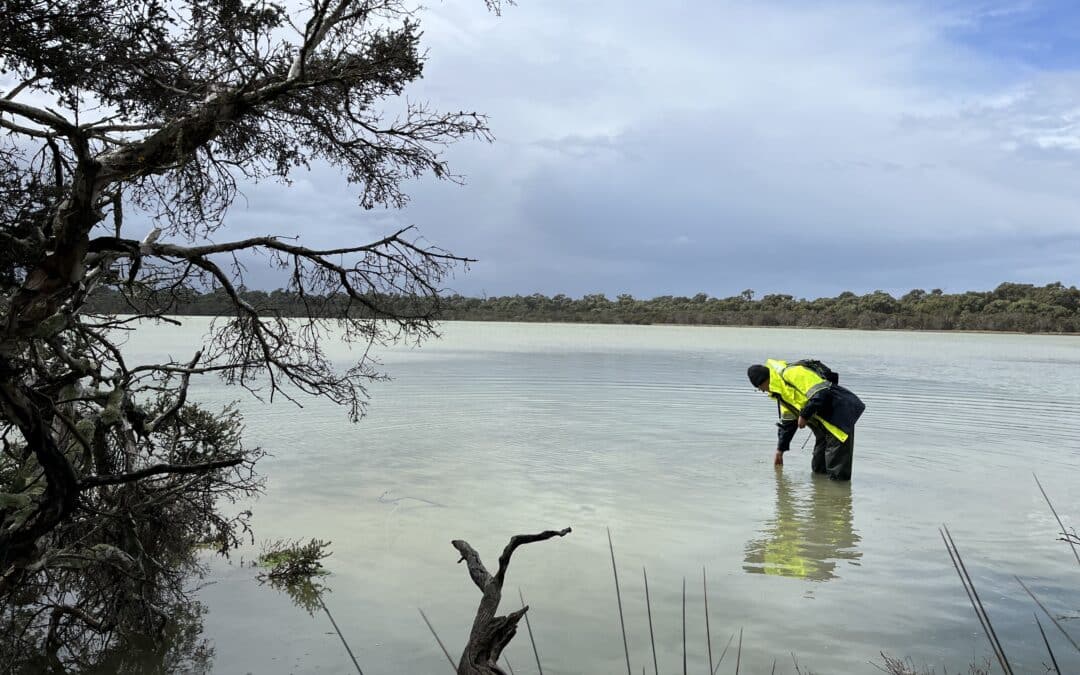 by Jennie Beeson
The thrombolites at Lake Clifton are a critically endangered, threatened ecological community and are one of the important components of the Peel-Yalgorup Ramsar 482 site, a wetland of international significance. The health of the thrombolite community is driven by the water levels and water chemistry of Lake Clifton, however the range of water levels and chemistry that the thrombolites can tolerate is not well understood.
Peel-Harvey Catchment Council has joined forces with some amazing researchers at the University of Western Australia (UWA), with additional fieldwork and technical assistance from Department of Biodiversity, Conservation and Atractiosn (DBCA) and Department of Water and Environmental Regulation (DWER), to fund a study to investigate how water level, hydrochemical composition and salinity change across the length and depth of the lake as well as in the surrounding groundwater throughout the year.
The water in Lake Clifton is from two main sources – deep groundwater input and rain that falls into and around the lake and the smaller lakes on the western side of Lake Clifton. The water leaves the lake via evaporation or from infiltration down through the lake sediments to the groundwater system below.
The amount of salt in the lake and the chemistry of the water within the lake will depend on the balance of inflow and outflow of water from the lake, with the input of fresh water diluting the salt load and evaporation causing an increase in concentration.
This current study will use hydrochemical analysis, stable isotopes and water dating methods to determine the full water budget of the lake, that is – inflow, outflow, evaporative losses, water retention time and average water age. The salt budget will determine the sources of salt, how much salt recycling occurs, the drying and wetting processes and the amount of dilution and accumulation. A more thorough understanding of the water chemistry and the influences and interactions between rainfall and groundwater and the impacts on lake salinity will fill a knowledge gap and lead to informed and improved management of the Lake Clifton thrombolites.
This project is supported by Peel-Harvey Catchment Council, through funding from the Australian Government's National Landcare Program.