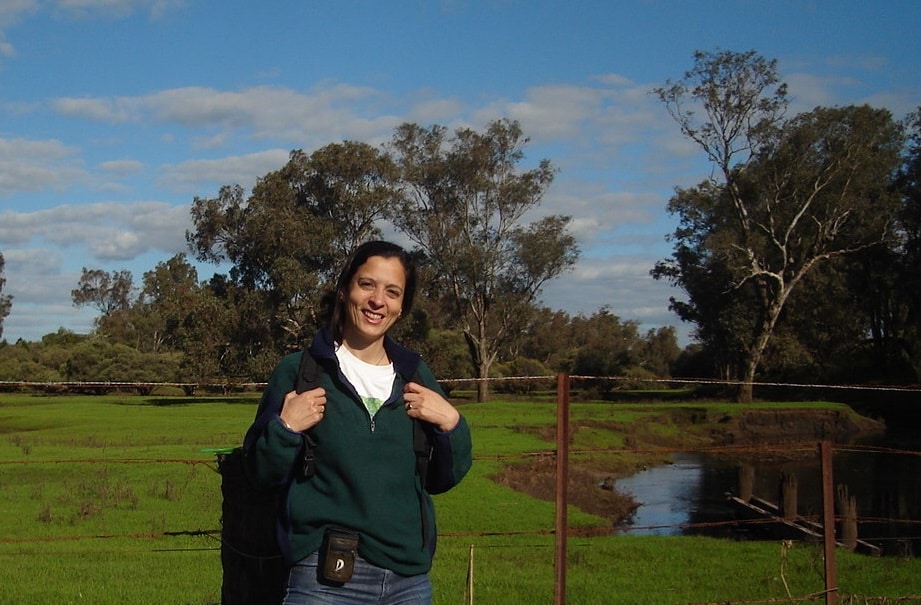 Water, Land And People Science Seminar Series Launches with
'Connecting Land to Ocean'
Mandurah, 10 February 2015…The Peel-Harvey Catchment Council's senior scientist, Dr Ryan Hooper, has announced a forthcoming science seminar series bringing together eminent Australian researchers, catchment managers and community to share their knowledge of past, current and future catchment issues in the Peel-Harvey.
The first event will take place this Thursday 12 February from 12 noon to 2pm at Peel-Harvey Catchment Council with a presentation entitled 'Connecting Land to the Ocean' by Dr Ana Laura Ruibal-Conti. Dr Ruibal-Conti is a post-doctoral research fellow at UWA's School of Earth and Environment, and her presentation will entail a retrospective analysis of nutrient flux pathways within the Peel-Harvey catchment estuary system.
Dr Ryan Hooper said the Water, Land and People seminars will encourage participants to work together.
"Through the seminar series, we intend to foster collaborative partnerships between scientists and practitioners working towards developing evidence-based criteria that will allow decision-makers to more effectively manage our natural resources," Dr Hooper said.
"In the 1980s and 1990s, scientists and catchment authorities worked together to develop a catchment nutrient management strategy to rid the estuary of toxic algal blooms and excessive macro-algal growth, culminating in construction of the Dawesville Channel ("the Cut"). New research by Dr Ana Laura Ruibal-Conti from 2009 – 2013 has significantly advanced our understanding of nutrient fluxes along the catchment-estuary-sea continuum and the implications for catchment managers and community working together to restore healthy waterways are profound."
"Water quality of Peel-Harvey catchment has been debated from the 1970s and has been the subject of numerous scientific studies."
"Water quality issues are complex in the Peel-Harvey catchment, arising from multiple interactions between river flow, tidal exchange, and nutrient pathways. Dramatic changes in land-use and hydrology from pre-European conditions altered the balance of nutrient dynamics impacting on water quality and estuary health."
Dr Hooper said interested parties were welcome to enquire about attending the free seminar being presented this Thursday 12 February at the Peel-Harvey Catchment Council at 58 Sutton Street, Mandurah.
Contact: Dr Ryan Hooper (08) 6369 8800
ENDS…
More about Dr Ana Laura Ruibal-Conti
Estuaries are unique ecosystems where the river and the ocean meet to create a diverse and ecologically rich environment. Along the freshwater to marine continuum multiple factors interact over a range of spatial and temporal scales to drive estuarine response. In this talk Dr Ruibal-Conti will present how these factors, in particular changes in land-use, hydrodynamics and a changing climate, interact and affect nutrient dynamics along the catchment-estuary-ocean continuum of the Peel-Harvey estuary and shaped the water quality of the system over the past three decades.
Dr Ana Laura Ruibal-Conti works as a post-doctoral researcher at the School of Earth and Environment, UWA. Her research focuses in water quality and environmental studies of surface waters (lakes, rivers, and estuaries). She completed her doctoral degree at UWA in the area of estuarine nutrient pathways and graduated as a Master in Environmental Engineering from Kyoto University, Japan in the area of toxic algal blooms in lakes. She has worked for more than 10 years in the National Institute for Water in Argentina. As unit coordinator for the Department of Applied Limnology and Water Quality she participated in several national and international project related to water quality, environmental modelling, eutrophication and risk assessment of toxic algal blooms.
ENDS…
Contact: Jane O'Malley, Chief Executive Officer, Peel-Harvey Catchment Council, Jane.Omalley@peel-harvey.org.au , (08) 6369 8800