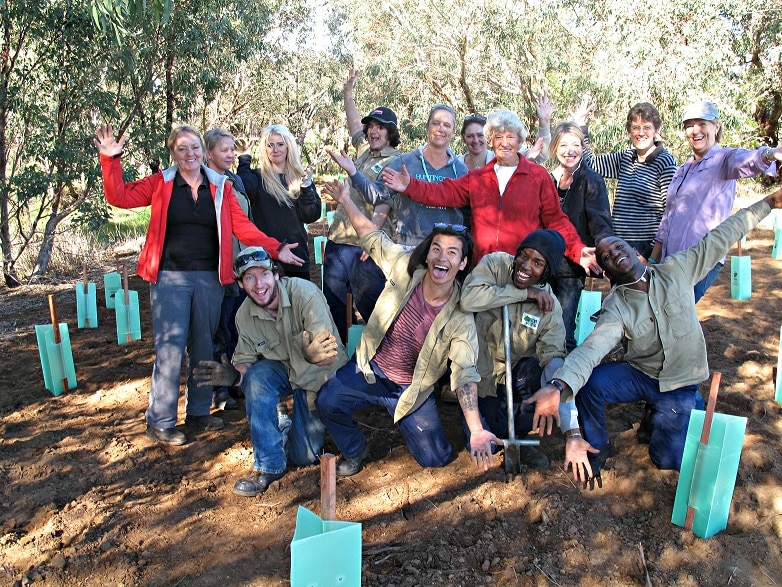 Community members, together with Bridging the Gap's Green Army team and the Peel-Harvey Catchment Council, are achieving major revegetation works at Wilgie Creek.
10 June 2015 – Momentum continues this month with major Landcare works on the region's largest biodiversity project, Rivers 2 Ramsar, being rolled out along the Murray River by members of the Bridging the Gap Green Army, community volunteers and the Peel-Harvey Catchment Council (PHCC).
The teamwork is creating large scale improvements like this section of revegetation at Wilgie Creek where over 900 seedlings were planted over a hectare of land. This project is supported by the Peel-Harvey Catchment Council through funding from the Australian Government's National Landcare Programme. PHCC Chair, Jan Star A.M. said the Wilgie Creek revegetation was an excellent example of community Landcare actions.
"The Rivers 2 Ramsar project is about improving the connections between local bushland and rivers like the Murray and repairing these riparian corridors to provide habitats and food for native wildlife. By working with our project partners, community members and the Bridging the Gap Green Army, we have been able to achieve and even surpass the project's revegetation benchmarks," said Jan Star.
Mr Don Randall, MP for Canning, said it was great to see this level of cooperation, support and commitment from the local community, Green Army teams and Landcare sector.
"The new relationship between Bridging the Gap and Peel-Harvey Catchment Council will ensure ongoing environmental benefits for my electorate of Canning. The Coalition Government's commitment of over $3.5 million to the Peel-Harvey region will ensure that the unique environment is protected for future generations," he said.
Through the engagement of partners such as the Shire of Murray and support from the Department of Water and community groups like the North Yunderup Community Association and Friends of Rivers Peel, over 37 hectares of weed control and 20 hectares of revegetation has been undertaken around the Murray River, which is one of six sites throughout the Peel-Harvey catchment where the Rivers 2 Ramsar project is creating large scale landscape improvements.
MORE ON RIVERS 2 RAMSAR…
The Australian Government has committed over $3.5 million to restore ecological corridors across the Peel-Harvey catchment to re-establish habitats for native fauna. The project, named Rivers 2 Ramsar to reflect the linkage between the region's rivers and Ramsar-listed wetlands, is occurring concurrently across six priority sites in the 11,940km catchment.
Landscape linkages such as this are significant not only for resident fauna but here in the Peel-Harvey our rivers flow into the Ramsar-listed wetlands which are an important feeding and roosting site for many of the migratory birds that visit from Siberia, Japan, Korea and China.
Community-based natural resource management (NRM) organisation, The Peel-Harvey Catchment Council, is managing the delivery of the over-arching project with no less than seven key partners, numerous stakeholders and community members.
The large scale biodiversity project is on schedule to finish in 2017 and is having significant social, economic and environmental benefits. This project is supported by the Peel-Harvey Catchment Council through funding from the Australian Government's National Landcare Programme.
ENDS
Media Contact: Jane O'Malley, Chief Executive Officer, Peel-Harvey Catchment Council, Jane.Omalley@peel-harvey.org.au , (08) 6369 8800