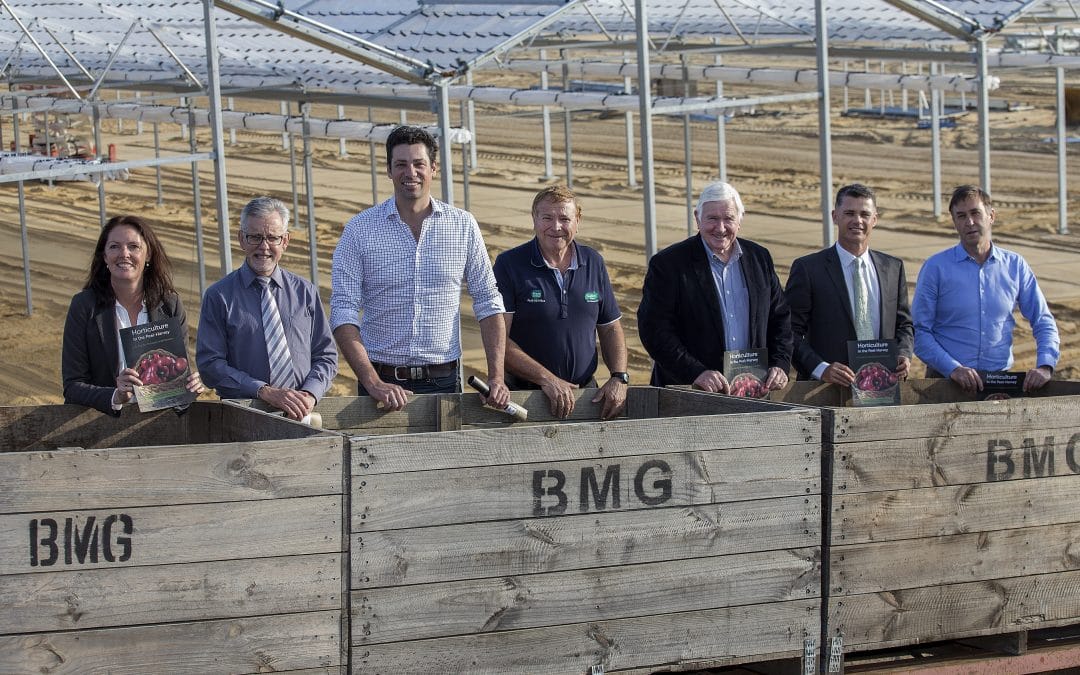 8 September 2015…
An initiative led by local leaders to attract sustainable agricultural investment into the Peel-Harvey Region has stimulated action to improve food security while protecting the Region's prized natural resources, including the Peel-Harvey Estuary.
The Region currently grows over $350 million of produce across 140,000 hectares and this is set to significantly increase over the next 20 years. However, it has been clearly identified by researchers and government groups that predicted growth of the industry, as well as other new development, has the potential to create environmental risks if it is not well planned and managed.
As the Peel Harvey Catchment Council's CEO Jane O'Malley explains, the fragility of the Peel-Harvey's Estuary health has always collided with the nutrient management risk that traditional farming and development methods pose on many of the Catchment's soils. Unfortunately, much of the catchment to the Estuary is flat, sandy, wet, cleared and drained – meaning that all new development needs to work hard to meet water quality protection standards.
For example, growing vegetables directly in poor deep sands can lead to excess fertiliser being leached into groundwater and local waterways. This results in algal blooms and fish deaths and is contrary to government policy.
In contrast, well managed closed loop systems of production such as closed hydroponic systems greatly reduce the risk of fertilisers being leached or washed into waterways and groundwater. It is believed that these types of sustainable agriculture and food innovation will become the norm as growers and consumers seek more sustainable fresh food options.
With urban expansion rapidly reducing food production sites in the greater Perth area, the Peel Region's available water supplies, proximity to metropolitan outlets, and strong transport nodes mean that Peel is well placed to attract new growers and investors.
In a proactive approach, a Technical Working Group (TWG) for Sustainable Agriculture in the Peel has been established to improve and streamline decision making around new proposals for vegetable farms and other horticultural enterprises and ensure that they can meet water quality protection standards.
Ms O'Malley who is joint Chair of the Group said that the TWG is a collaborative effort of state and local government agencies and the Peel-Harvey Catchment Council and was focused on the two aims of supporting a future for the horticulture sector in the Peel, and protecting the Peel-Harvey Estuary.
"Not only is it important for us to work with industry growers, we also have an obligation to build an engaged community that want to learn and support local sustainable food production. A well informed community will influence and impact purchasing choices, which will not only benefit our personal wellbeing but promote environmental and economic health for our communities."
In addition to supporting more streamlined internal government processes, the Group has published a brochure that will assist growers target resources to areas suitable for production that will not present a significant risk to the Peel-Harvey Estuary.
John Shannon, CEO of Vegetables WA has been working with the TWG and welcomes the assistance provided to the industry and the opportunities now being presented. "We acknowledge the initiative and the efforts of the Peel Leaders Forum and agency representatives of Peel-Harvey in their positive approach to attracting and increasing investment into this ideal food production location, while protecting natural resources of the Region," he said.
Copies of the publication produced by the Peel Regional Leaders Forum and Peel Sustainable Agriculture Technical Working Group to guide investment decisions with new horticulture development in the Peel-Harvey are available from Local Councils of the Peel-Harvey Region, the Peel-Harvey Catchment Council's office and website at www.peel-harvey.org.au
This project is supported by the Peel-Harvey Catchment Council through funding from the Australian Government's National Landcare Programme and the Peel Regional Leaders Forum.
ENDS…
Media Contact: Jane O'Malley, Chief Executive Officer, Peel-Harvey Catchment Council, Jane.Omalley@peel-harvey.org.au , (08) 6369 8800