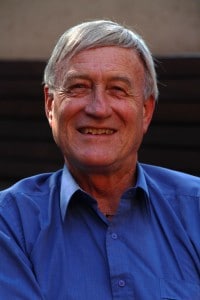 7 July 2015…The topic of next week's Peel-Harvey Catchment Council's event, S.H.A.R.E. (Social Help, Action & Resources for Environment) has drawn Western Australia's leading experts on planning, urban design and sustainability to Mandurah. S.H.A.R.E.'s topic, 'Dry Sheep Equivalent (DSE)', relates to planning for landscape capacity. DSE is a standard agricultural stocking measure of a piece of land's capacity to carry livestock. With many strategic planning projects underway in the Peel-Harvey region, the Peel-Harvey Catchment Council invited the experts to address how we will enable world class innovative planning, manage population growth to 3.5 million for Perth and Peel, and protect the region's significant environmental assets. The guest speakers are:
Peter Newman, Professor of Sustainability, Curtin University 'What is the Peel-Harvey's DSE in human terms and how is planning addressing this?'; Brett Wood-Gush, Urban Designer/ Fellow Planning Institute of Australia 'Packing them in: Why suburbia is becoming eco-burbia like it or not'; Simon Taylor, Director at Department of the Premier and Cabinet of WA 'SAPPR – The strategic planning for land use and long term conservation planning'; Rebecca Eggleston, General Manager, FORM 'Creating vibrant, diverse, quality places designed with people in mind'; and Debra Goostrey, CEO UDIA WA 'Dispelling urban myths to ensure world class liveability for Perth and Peel in 2050'.
S.H.A.R.E. 'Dry Sheep Equivalent' is being held Thursday 16th July. Seats are strictly limited and RSVP is essential. Enquiries to catchment.events@peel-harvey.org.au
SPEAKER PROFILES
Peter Newman
Peter Newman is the Professor of Sustainability at Curtin University. He has written 17 books but is best known in Perth as a media commentator and the person who saved the Fremantle Railway. In 2014 he was awarded an Order of Australia for his contributions to urban design and sustainable transport. Peter has worked in local government as an elected councillor, in state government as an advisor to three Premiers, in the Australian Government on the Board of Infrastructure Australia and in the UN on the IPCC as a Lead Author for Transport. (Pre-recorded presentation).
Brett Wood-Gush
Brett is the Principal Urban Designer at Metropolitan Redevelopment Authority where, among other current projects, he closely involved in the Scarborough Beach Masterplan Development. He has been engaged in multiple projects as senior urban designer and has developed strategy and policy recommendations and industry workshops. A passionate and focused collaborator, lecturer and researcher, Brett is a skilled practitioner in creating viable, vibrant and sustainable communities.
Simon Taylor
Simon is currently a Director in the Cabinet and Policy Division at the Department of Premier and Cabinet. In this role he leads two major cross government projects: The Strategic Assessment of the Perth and Peel regions (the 'SAPPR') and The Kimberley Science and Conservation Strategy. Simon holds a Bachelor of Laws and Bachelor of Arts (majoring in sustainable development) and has previously worked in the Offices of the Ministers for Environment and Planning. Prior to this he also worked at the Department of Housing on a number of affordable housing projects and helped to establish the Perth Solar Cities project.
Rebecca Eggleston
Rebecca is General Manager at FORM, an independent non-profit organization that develops and leverages creativity as a catalyst for community transformation and cultural development in Western Australia. Rebecca leads the organisation's urban and place strategy work, combining her background in creative cities, city strategy, creative industries and community development. Rebecca was previously a Program Director at CEOs for Cities, a U.S. based national network of urban leaders, where she developed the organisation's creative cities work and consulting, as well as designing and delivering new programs and national events to advance thinking on a range of key city concerns. Prior to this, she managed creative industry and creative city development initiatives in Western Australia.
Debra Goostrey
Debra has held the position of Chief Executive Officer for the WA Branch of the Urban Development Institute of Australia, the peak body for the development industry since May 2007. After studying for a double degree in Public Administration & Information Science, Debra had a varied career representing the interests of private industry and held the key role of Chief Executive Officer for Transport Forum prior to taking up the position at UDIA. Debra's broad understanding of the needs of industry has seen her involvement on an enormous variety of committees, councils and boards at state and national level including diverse roles as a Trustee Director for a multi-billion dollar industry superannuation fund, Director of the Land Surveyors Licensing Board and a member of the Wildlife Corridors Advisory Group reporting to the Federal Minster for Environment. Debra is currently a member of the Training Accreditation Council, the Ministerial Taskforce on Housing Affordability, the Perth/Peel Strategic Assessment Reference Group and is Chair of the School of Economics and Finance at Curtin University.
ENDS
Media Contact: Jane O'Malley, Chief Executive Officer, Peel-Harvey Catchment Council, Jane.Omalley@peel-harvey.org.au , (08) 6369 8800