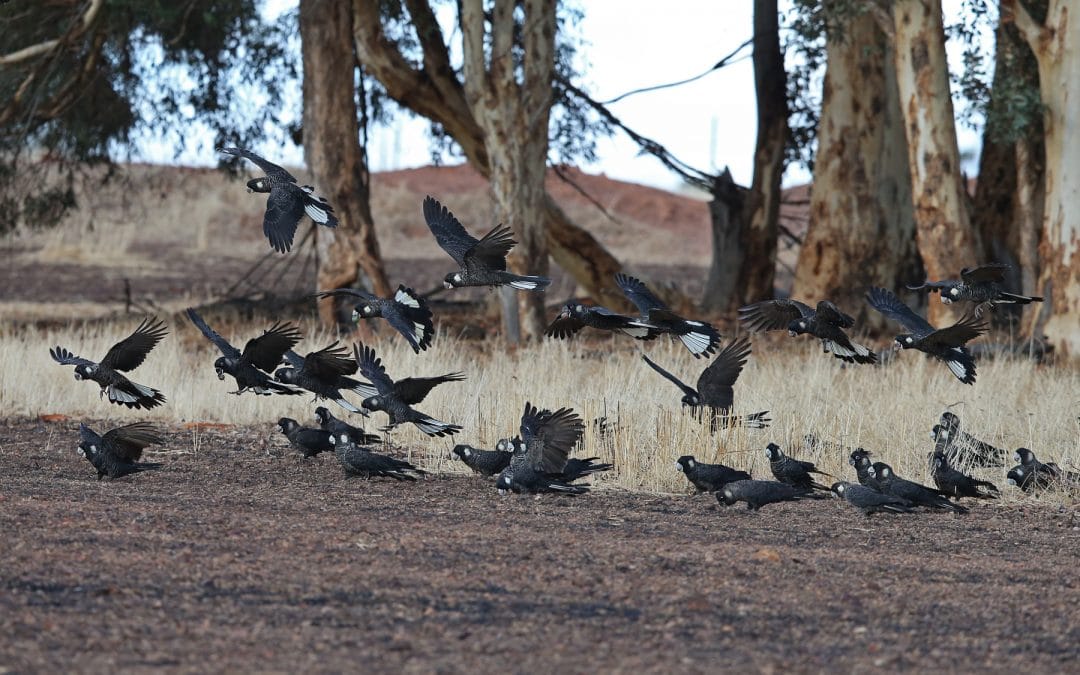 4 November 2015…Learning to love and understand Western Australia's threatened Black-Cockatoos is the key to enhancing their chances of survival as urban development and changes to rural land use increasingly reduce their breeding and feeding habitats.
In the last 50 years, it is estimated the population of Carnaby's Black-Cockatoos has declined by 50%, and their range has been reduced by up to one-third. Populations of Baudin's and Forest Red-tailed Black-Cockatoo are thought to be similarly reduced according to Jan Star, Deputy Chair of the Peel-Harvey Catchment Council (PHCC).
"The 2014 Great Cocky Count report by Birdlife Australia and Western Australia's Department of Parks and Wildlife estimated the current rate of decline in the cockatoos' population on the Perth-Peel coastal plain was 15 per cent per year," said Jan Star.
"Like many unique species, a serious decline in breeding numbers will result in extinction if a range of management and conservation measures are not put in place and supported by communities," she said.
With population predicted to climb to 3.5 million people by 2050 across Perth-Peel, the PHCC and their project partners, Birdlife WA, have aligned with the Australian Government to raise awareness of the plight of Black-Cockatoos.
The Peel-Harvey Catchment Council's series of Black-Cockatoo workshops, designed to engage communities and activate a desire to protect the birds, has attracted over 100 local residents from across the catchment.
Many participants also joined in Birdlife WA's annual Great Cocky Count. Sue Mather, Vice-Chair of Birdlife WA, said the cockatoo workshops were a timely way to raise awareness of the pertinent issues.
"In the Peel-Harvey catchment, Carnaby's breed in areas such as Wandering, Boddington and Williams and fly to feed and roost on the coastal plain. The number of people participating in the cockatoo workshops testifies to the commitment and proactive approach taken by the PHCC and BirdLife WA in the protection of our native species," said Sue Mather.
Jan Star said the workshops were designed to raise awareness of critical feeding and breeding habitat and highlight the importance of landscape linkages and wildlife corridors.
"South West Australia's endangered Carnaby's Black-Cockatoo species is a focus of our Rivers 2 Ramsar project that is restoring ecological corridors across the Peel-Harvey catchment to re-establish habitats for native fauna. Carnaby's depend on wildlife corridors as they fly from the west to the east to feed and breed," she said.
The PHCC is managing the delivery of the over-arching Rivers 2 Ramsar project with no less than seven key partners, numerous stakeholders and community members. Carnaby's Cockatoos were chosen for the project as they traverse the entire landscape of the 11,940km Peel-Harvey catchment.
North Dandalup resident Fleur Ambrosa said she attended the workshops as she was considering planting for cockatoos on her property and wanted to learn more about them first.
"I love hearing the cockies as they fly over our house. Attending the workshop made me more aware of everything we need to do to protect our native animals. After participating in the Great Cocky Count, I was struck by the serenity of the bush, and the fact that the birds have no voice in our political arena. They are on their own, endangered, and will become extinct if we don't do something now to help them," she said.
Pinjarra resident Allan Mackenzie said the workshop made him want to get more involved.
"It was a great talk – very informative. It has changed the way I view and value Black-Cockatoos and their habitats. I definitely would like to get more involved as a result," he said.
PHCC and BirdLife WA, who delivered the workshops with Landcare partners Harvey River Restoration Taskforce, Landcare SJ, City of Mandurah, Shire of Murray and the Hotham Williams community, are planning a further 10 workshops over the next two years. This project is supported by the Peel-Harvey Catchment Council through funding from the Australian Government.
ENDS
Media Contact: Jane O'Malley, Chief Executive Officer, Peel-Harvey Catchment Council, Jane.Omalley@peel-harvey.org.au , (08) 6369 8800
Click here to view or print pdf …