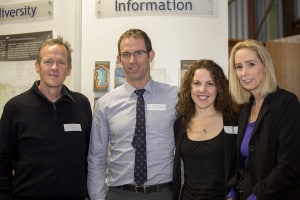 S.H.A.R.E Dry Sheep Equivalent Speakers L-R Brett Wood-Gush, Simon Taylor, Rebecca Eggleston and Debra Goostrey (with Professor Peter Newman speaking via video url link below)
This week the Peel-Harvey Catchment Council (PHCC) welcomed an expert panel on sustainable development to lead discussion on future growth for the Peel Region through its S.H.A.R.E (Social, Help, Action and Resources for the Environment) series.
The latest in the series "Dry Sheep Equivalent – Planning for the Capacity of our Landscape", challenged the notion of basing development planning on how far you can push urban sprawl – to consider more intently how to best accommodate predicted growing numbers within a given landscape.
The recent release of the Draft South Metro Peel Sub-Regional Planning Framework predicts that within the areas of Kwinana, Rockingham, Serpentine Jarrahdale, Mandurah, Murray and Waroona, population will increase significantly from 523,406 (2011) to 1.26 million (2050).
Chair of the PHCC Jan Star AM, said that it is imperative that as civic leaders we join together to promote robust discussion on how we want to shape and form our future expansion. Ensuring that during a phase of anticipated intense growth that we create vibrant, safe, healthy and enviable communities.
Expertise drawn from a diverse group of guest speakers who included; Peter Newman AO, Distinguished Professor of Sustainability, Debra Goostrey, CEO of the Urban Institute of WA, Brett Wood-Gush Urban Designer/Fellow Planning Institute of WA, Simon Taylor, Director Department of the Premier and Cabinet WA and Rebecca Eggleston, General Manager of FORM, provoked thought and promoted discussion amongst attendees and speakers.
"Recently announced as the managers for natural resource management (NRM) of the now independent Peel-Harvey Catchment Region, the PHCC is accepting a new level of corporate responsibility in leading thought and conversation on how we can ensure all aspects for a sustainable future are met.
"If our region is to absorb the planned population increase it is vital that our environment can sustain that increase. The well-being of the community and vibrant living opportunities depend on that environment. Strong economic and employment strategies will also have to create local opportunities in order to build a strong community" said Jan Star.
"It is well recognised that the Region's natural assets have always been a drawcard for new residents and visitors alike, and these valuable aspects of our communities will be threatened if future development considerations are not approached with their protection as a given."
"We cannot afford to overstock our paddock, and in the words of Professor Newman, we must be careful as we extend."
S.H.A.R.E, which will continue to be presented by the PHCC throughout the year, has been designed to stimulate thought and positive actions for our Region. Series topics are based on a survey undertaken with project partners, government agencies and the community.
The S.H.A.R.E series project is supported by the PHCC through funding from the Australian Government's National Landcare Program.