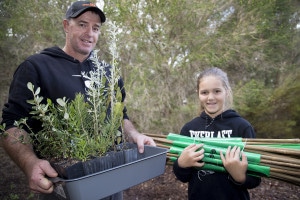 In a positive step towards re-engaging the Lake Clifton and Herron community, Peel-Harvey Catchment Council (PHCC) recently hosted a planting demonstration, pancake breakfast and seedling give-away at the Lake Clifton Herron Community Hall. Over 100 local residents turned out on a cold, Sunday morning to collect seedlings, eat pancakes and to share an affinity yarn with their neighbours.
Lake Clifton and Herron are adjacent to Yalgorup National Park.  The Park is a 12,888ha area of coastal land that includes Lake Clifton, Lake Preston and several other significant freshwater and saline lakes. The Yalgorup Lakes System is part of a site listed under the international Ramsar Convention on Wetlands protecting "Wetlands of International Significance".
The Thrombolites of Lake Clifton represent some of the earliest forms of life on earth and are thought to be over 2000 years old. The Thrombolites are protected under the Environment Protection and Biodiversity Conservation (EPBC) Act and are listed as critically endangered. These "living rocks" grow less than 1mm a year and are built by photosynthesising micro-organisms whose limestone emissions create the dome structure of the Thrombolites.  The health of the Thrombolites is under threat with the salinity of the lake increasing and the seedling give-away is just one of many steps towards trying to improve the health of the Lake Clifton area.
For this seedling give-away morning, the Lake Clifton and Herron community were joined by PHCC board member, Paddi Creevey, PHCC staff and volunteers along with Jenny Rose from the Lake Clifton Herron Landcare Group who was thrilled with the community's enthusiasm and sheer number of people who weathered the wintery morning.
1700 seedlings, with tree guards, were given to community members on the day and a pancake breakfast provided the community with a warm welcome on such a cold morning. Local business owner Wayne Goring from Arboreal Tree Care made a generous contribution and provided 40 landowners with a free load of mulch to give the seedlings a greater chance of surviving.
Feedback from the day showed that the Lake Clifton/Herron community thought the event was very well planned and they appreciated the opportunity to network with their neighbours.  One participant said "Very informative.  Great to see a community come together. (It) has been wonderful".
The attendance of over 100 residents and landowners reflects the Lake Clifton and Herron community's widespread interest in protecting the environment and their willingness to act now for the benefit of future generations.
By reconnecting with the community and distributing seedlings, PHCC hope to share the message of the importance of protecting not only the Thrombolites but the surrounding landscape as well.
This project is supported by the PHCC through funding from the Australian Government's National Landcare Programme.
ENDS
Media Contact:  Jane O'Malley, Chief Executive Officer, Peel-Harvey Catchment Council, Jane.Omalley@peel-harvey.org.au, (08) 6369 8800
We acknowledge the Noongar people as Traditional Custodians of this land and pay our respects to all Elders past and present