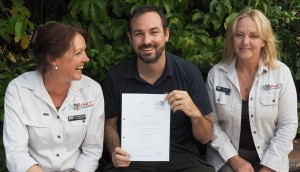 Threatened cockatoos, migratory and resident shorebirds living within the Austin Bay and Robert Bay Nature Reserves are the focus of a partnership between the Department of Parks and Wildlife and the Peel-Harvey Catchment Council.
Weed control, water management, restoration and revegetation, access control and community engagement are all on the agenda in a bid to improve the habitat for fauna living along the eastern side of the Ramsar listed Peel-Harvey Estuary.
Department of Parks and Wildlife's Dr. Karl Brennan said both projects aim to assist recovery for the threatened ecological communities, such as saltmarshes and claypans of the Swan Coastal Plain.
"Improvements at Roberts Bay will also contribute to protecting five priority flora species across 138 hectares of Conservation Category Wetland", said Dr. Brennan.
Chair of Peel-Harvey Catchment Council Andy Gulliver said projects such as these are vital to the long-term sustainability of some of our region's greatest assets.
"Weed control, fencing to better manage access, and other enhancements are an important part of maintaining these areas, with Austin Bay listed as an internationally significant wetland," Mr Gulliver said.
The partnership is an example of Peel-Harvey Catchment Council's work across the Peel Region, protecting flora and fauna and nurturing the internationally Ramsar listed Peel-Yalgorup system.
For further information about the work of the Peel-Harvey Catchment Council or to find out how you can help their cause, visit https://stage.peel-harvey.org.au.
ENDS
Media Contact: Jane O'Malley, Chief Executive Officer, Peel-Harvey Catchment Council, Jane.Omalley@peel-harvey.org.au, (08) 6369 8800