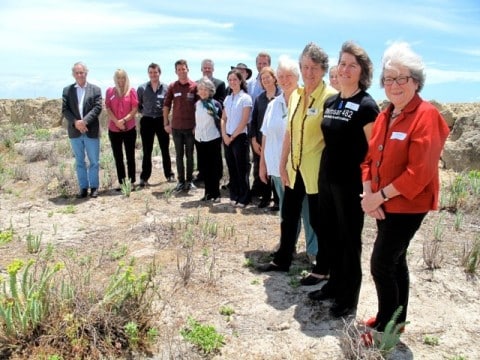 Dr Carmen Lawrence, PHCC acting CEO Kim Wilson, PHCC Chair Jan Star, PHCC board member Paddi Creevey and the expert panel for the Wetlands and People Plan.
The Peel-Harvey Catchment Council convened a panel of experts (on 19th November 2014) in Mandurah to initiate the first Wetlands and People Plan in Western Australia. The plan is designed to promote communication, education, participation and awareness of the Peel-Yalgorup Wetland System.
The Council's Chair, Jan Star, said the key aims were to promote wise use of the valuable natural resource by the many diverse groups who interact with the Wetlands.
"The goal is for every person, business or entity to become agents, advocates and ambassadors for the wise use of the Peel-Yalgorup Wetlands," Jan Star said.
"We recognise many people who enjoy our Ramsar 482 Wetlands are already doing this, however the increasing population brings its own set of issues and unless we create a strategy now that will influence the influencers – for example the town planners, building designers, developers as well as all the diverse user groups including commercial fishers, tourists and families, this great wetland system will have ongoing health issues."
"As one of our expert panelists noted, ecologically sustainable development and sustainable use are different and each requires unique strategies," Jan Star said.
The PHCC's expert panel brought together representatives from the fields of government, tourism, education, marketing, environment, planning and community. Dr Carmen Lawrence of the University of Western Australia said she believed a message about using the Wetlands wisely should engage people on a personal level.
"People can and often do take actions out of generosity of spirit and a desire to protect what gives them their sense of place. They will act if they understand they have a personal stake in the future of what they benefit from most – recreationally, emotionally and financially," Dr Lawrence said.
Chair Jan Star said The Wetlands and People planning session had created valuable alliances and a knowledge base for the future development of the plan.
"The draft Wetlands and People Plan for the Ramsar 482 Site is expected to be delivered in February 2015," she said.
ENDS
Contact: Kim Wilson, Acting Chief Executive Officer, Peel-Harvey Catchment Council, kim.wilson@peel-harvey.org.au , (08) 6369 8800