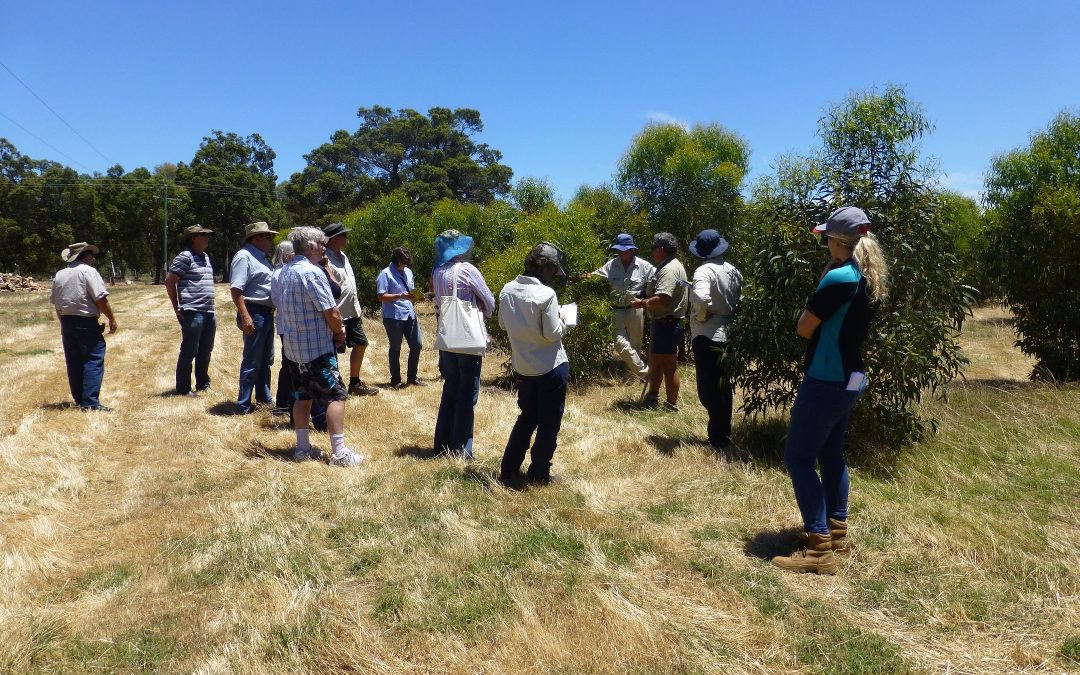 Mandurah, 7 January 2014…Seventeen people recently attended a workshop on Farm Water Management, "Turning Water into Wood" at Neil Kentish's property in Serpentine. Entitled 'A Landholder's Perspective' and presented by the Peel-Harvey Catchment Council, the day focused on how keeping and using water onsite goes beyond improving productivity, with the combination of grade banks, sediment traps, pasture and native vegetation helping to reduce erosion and nutrient loss in a healthier and more productive landscape.
Neil Kentish, proprietor of SJ Farm Grown Firewood, spoke about making the most of timber. SJ Farm Grown Firewood is a local business in Serpentine. They grow a selection of Eastern states species of Australian Eucalyptus for their timber products, including firewood, posts, poles and even flagpoles. They harvest timber from 15 year old trees, planted and grown on their farming properties in Serpentine.
Colleen Archibald, event co-ordinator, said the presentation was a great example of a landholder amalgamating sustainable agriculture productivity with environmental objectives. "It was a great example of the outcomes of both, with various groups and organisations engaged with the landholder from inception," said Colleen Archibald.   Neil also spoke about the revegetation and management of water flows through Karnup Creek on his property in Hall Rd, Serpentine. Neil has created riffles in the creek and swales in the surrounding area to slow the water flow and keep it on the property longer so it can replenish the ground water and be used by the pasture and timber. He also discussed the planting of timber trees over the last 15 years to create a better environment as well as produce an income stream from poles, posts and firewood. Neil gave an impressive demonstration of his firewood production equipment.
Neil's water management work has been an ongoing program for him over many years but has recently been supported by Peel-Harvey Catchment Council, via the Filtering the Nutrient Storm project in 2011. Neil has been involved in landcare for many years and has funded a lot of the work himself – especially the timber production. He is now busy thinning the timber plantation and developing the firewood and pole market for sustainably grown timber.  This project is supported by Peel-Harvey Catchment Council through funding from the Australian Government.
ENDS…
Contact: Jane O'Malley, Chief Executive Officer, Peel-Harvey Catchment Council, jane.omalley@peel-harvey.org.au , (08) 6369 8800