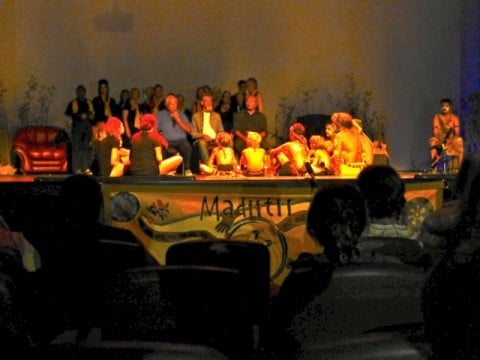 Pick up a piece of rubbish that could end up in our waterways, reduce your lawn and garden fertiliser, keep your dog on a leash near Wetlands wildlife – Thursday night's audience at An Evening with David Rennie and Friends heard all these are simple actions anyone can do to conserve our fragile Peel-Yalgorup Ramsar-listed Wetlands.
The event, presented by the Peel Harvey Catchment Council, commenced at twilight with a peppermint leaf smoking ceremony in Mandjar Square. Wildlife photographer and passionate environmentalist David Rennie lead a colourful and committed cast featuring local elder Harry Nannup, nature poet Annamaria Weldon, Pip Newman from Men of the Trees, the Binjarreb Middars Dance Group and the Madjitil Moorna Choir.
Peel Harvey Catchment Council CEO Jane O'Malley said guests attending told her they were 'captivated' by the evening.
"Judging by the great attendance at this event, our community obviously cares. Feedback I received indicated people were impressed with the passion of the presenters and the way the conservation concept was interwoven. We were delighted to have David and his friends create such an engaging program, and particularly wish to thank the presenters who volunteered their time," said Jane O'Malley.
Celebrating our Wetlands and raising awareness of the need for everyone to take ownership and action to counteract the degradation was the take home message from the night, according to David Rennie.
"It was a night of mixed emotions – I know people were entertained and moved and that was what we wanted. From my position on stage, I saw the realisation come into people's faces that our Wetlands are under severe threat as they took in our message crafted in song, dance and story. People were asking me 'what can I do' – well, they can do anything that upholds the values of our backyard – a Ramsar 482 listed wetlands site!" said David Rennie.
Photo Caption: David Rennie and his friends presented a journey through our waterways and wetlands at Mandurah Performing Arts Centre on 10 December 2014.
ENDS…
Contact: Jane O'Malley, Chief Executive Officer, Peel-Harvey Catchment Council, jane.omalley@peel-harvey.org.au, (08) 6369 8800