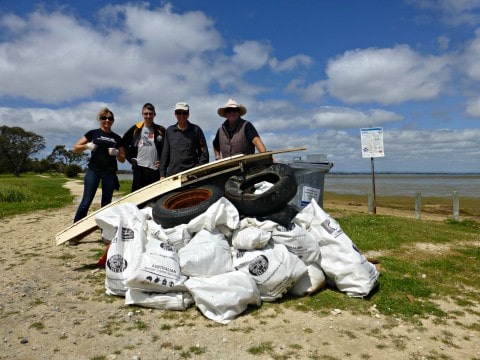 David Rennie, volunteers and PHCC staff collected over 100kg of rubbish to pave the way for the arrival of the migratory shorebirds this year.
Over 100kgs of domestic rubbish – including the front half of a wooden boat – was removed from shorelines of Nairns and Coodanup last month during the inaugural David Rennie Clean Up Day.
The event was organised by the Peel-Harvey Catchment Council, David Rennie and his family, and numerous volunteers from around the district. Chair of the PHCC, Jan Star, likened the event to doing the housework before important guests arrive.
"It's all about preparing our shores for the migratory birds about to descend from Siberia, Japan and China and making sure their temporary home is as comfortable and welcoming as possible. It was David Rennie himself who coined the phrase 'pave the way' while we were organising the project," Jan Star said.
Jan Star extended special thanks to all the old and new volunteers who swelled the ranks for the debris collection to over 40 people, saying the day's work was extremely significant.
"Many local people have been undertaking a number of activities to raise awareness of the need to protect our migratory birds. We were delighted when David Rennie spoke with the Peel-Harvey Catchment Council wanting to keep up momentum and awareness of our incoming feathered visitors with a special busy bee," she said.
"One of our smallest migratory birds, the Red-necked Stint weigh 30gms and will fit into the palm of your hand when it flies in from Siberia. When they leave, they weigh a healthy 40gms. The wetland shallows are the key browsing area for these birds and by far the most important thing is not to disturb them as you don't see them until you are right on top of them. It's so important that walkers keep their dogs leashed in this regard," Jan Star said.
This project is supported by the Peel-Harvey Catchment Council through funding from the Australian Government, Lotterywest, the City of Mandurah and Tangaroa Blue.
Contact: Kim Wilson, Acting Chief Executive Officer, Peel-Harvey Catchment Council, kim.wilson@peel-harvey.org.au , (08) 6369 8800