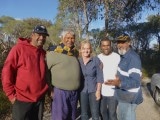 Members of the Winjan community enjoyed time spent planning skills-based training to help them working back on country as a major aspect of the multi-million dollar Rivers 2 Ramsar project currently being rolled out by the Peel-Harvey Catchment Council.
The Australian Government has committed $3.6 million to protect and enhance biodiversity of the internationally significant, Ramsar listed Peel-Yalgorup system during a four year timeframe. In what is the largest biodiversity project currently funded in Australia, the Council is managing landscape scale restoration, community engagement and planning across six priority sites in the 11,940km Peel-Harvey catchment.
Peel-Harvey Catchment Council chair Jan Star said the project's momentum was dramatic.
"Our Natural Resource Management Phase One plan is well underway after extensive community consultation. The entire strategy has been finely tailored, and to have achieved so much already is significant. In the past year, in addition to cultural consultation and facilitating skills based training for local Noongar such as seed collection, we have completed training and commenced on-ground works for weed management and revegetation in all the six catchment sites and released two river action plans for the Lower Murray River sites," Jan said.
The PHCC and its project partners, Birdlife WA, Department of Parks and Wildlife, Murray and Waroona Shires, City of Mandurah, Landcare SJ and the Harvey River Restoration Task Force are undertaking a range of strategic actions to protect the environmental, cultural, ecological and economic values by connecting river corridors of the Harvey, Serpentine and Murray Rivers to improve resilience and ecosystem function.
Jan Star said the community was playing a leading role in what will become a legacy project.
"In-kind contributions, partners and stakeholders in delivery are also contributing their time, technical support, labour skills and expertise. This will be a legacy project which will be successful because of people's desire to work together for a healthier environment."
ENDS
Contact: [Jane O'Malley, Executive Officer, Peel-Harvey Catchment Council, Jane.Omalley@peel-harvey.org.au , (08) 6369 8800
Photo: Mark and Harry Nannup (Elder); Jo Garvey, Rivers 2 Ramsar Officer; Ben and Franklyn Nannup planning Back to Country R2R strategy at the Nannagup site, Black and Goegrup Lakes.