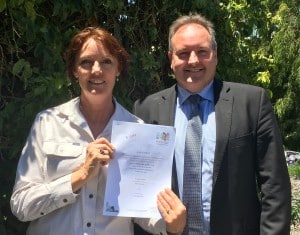 PHCC CEO Jane O'Malley with Shire of Murray CEO Dean Unsworth
A management plan designed to protect threatened flora and fauna within the Murray River delta is one step closer, thanks to a partnership project between Peel-Harvey Catchment Council and Shire of Murray.
The Murray River delta area comprises a series of eight low lying islands and estuarine areas where the Murray and Serpentine rivers flow into the Ramsar listed Peel-Harvey Estuary system in South Yunderup.
Funding from the Australian Government's National Landcare Program has facilitated the project, with the two organisations working together to undertake a survey of threatened flora and fauna in the area, and identifying management actions for feral animal control.
According to Peel-Harvey Catchment Council's CEO Jane O'Malley, the Government's National Landcare Program has been vital to breathing life into many local projects, and the survey and management plan for the Shire of Murray's River delta is one project benefiting from the funding.
Shire of Murray's Chief Executive Officer Dean Unsworth said the Shire contains some of the most threatened ecological communities remaining in South West Australia.
"This joint project will allow us to enact some of our key proposals from our Local Biodiversity Strategy in terms of reserve management. The Shire manages several reserves that have declared rare flora and threatened ecological communities in them. These are at risk from weeds, feral animals, human impacts and the very nature of their rarity and as such are recognised under Federal law."
"It is envisaged that this project will help to secure their long term viability in Murray both through gaining a better understanding of the reserves and through feral animal control," Mr Unsworth said.
The project is one of many managed by Peel-Harvey Catchment Council, which sees the influential environmental agency working with stakeholders to nurture the environmental future of the Peel Region.
To read about other partner projects of Peel-Harvey Catchment Council visit www.peel-harvey.org.au
ENDS
Media Contact: Jane O'Malley, Chief Executive Officer, Peel-Harvey Catchment Council, Jane.Omalley@peel-harvey.org.au, (08) 6369 8800