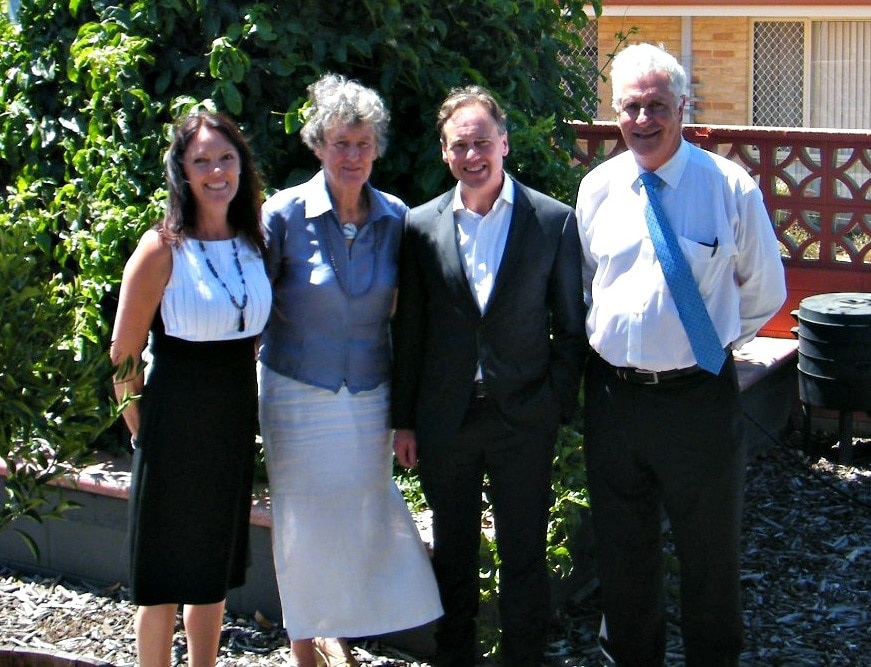 Jane O'Malley, CEO, Jan Star, Chair, pictured with Hon. Greg Hunt, Don Randall MHR Canning
Mandurah, 15 January 2015…The board and staff of Peel-Harvey Catchment Council were delighted to welcome a visit from the Federal Minister for the Environment, the Hon. Greg Hunt, and the Federal Member for Canning, Don Randall to acknowledge the natural management resource entity's transition to an independent national Natural Resource Management organisation.
Midway through the 2014 year, Peel-Harvey Catchment Council officially became the 55th Natural Resource Management region in Australia giving the entity national status. Chair Jan Star said the visit was key in continuing the excellent relationship with the Department of Environment which Peel-Harvey Catchment Council has established to date.
"We believe that the ministerial visit reinforced the capabilities of the Peel-Harvey Catchment Council board and staff to the Hon. Greg Hunt and provided him with a better understanding of our key assets and the necessity to continue the Commonwealth's focus on the Peel-Harvey region," said Jan Star.
The Australian Government has already committed $3.6 million to protect and enhance biodiversity of the internationally significant, Ramsar-listed Peel-Yalgorup system during a four year timeframe. The Peel-Harvey Catchment Council is managing the project which includes landscape scale restoration, community engagement and planning across six priority sites in the 1.2 million hectare Peel-Harvey catchment.
"Environmental and natural resource issues in the Peel-Harvey are many and complex. There are big issues here and they need big solutions. I'm confident the newly established Peel-Harvey natural resource management body is best placed to find these solutions," Canning MHR Don Randall said.
Contact: Jane O'Malley, Executive Officer, Peel-Harvey Catchment Council, Jane.Omalley@peel-harvey.org.au , (08) 6369 8800