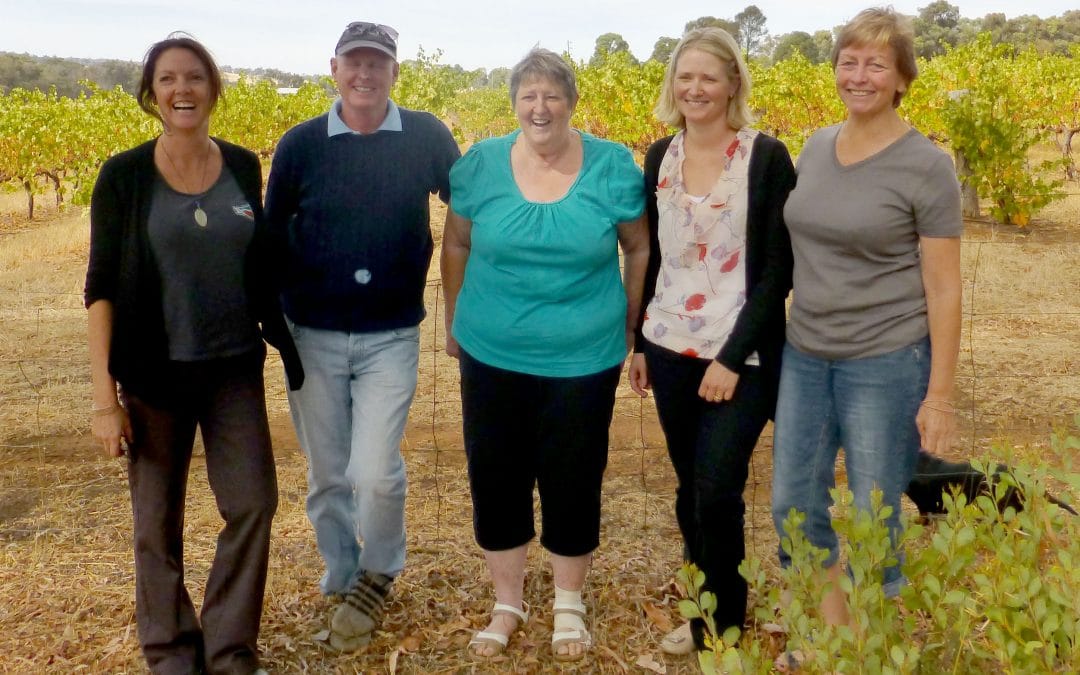 9 December 2015…Peel-Harvey Catchment Council (PHCC) Chairman Andy Gulliver has praised the achievements of outgoing Board member Maxine Whitely, a Landcare pioneer for over two decades and Wandering landowner who has been an active community participant and serving member of the PHCC for over ten years.
"Maxine has been a long-time advocate for Landcare in Hotham Williams. Her on-going commitment to attracting funding for projects in the Upper Catchment and her hands-on approach to restoring and protecting the area's natural assets is highly valued. She is a true champion for the environment and has been an important member of the PHCC Board," said Andy Gulliver.
The former Narrogin nurse turned her nurturing hand to the land when she moved to her husband's 1,400 hectare Wandering property as a young bride. The family farm embraces 423 hectares of virgin bush rich with native flora and fauna species, and holds a special place in her heart.
"I love the property and our native bushland and am passionate about ensuring our natural assets are cared for and protected. My introduction to Landcare all those years ago was the Greening Challenge with the Upper Great Southern Oil Mallee Growers Association. The tree-planting program was the first of many fulfilling projects that has seen me work alongside wonderful people also dedicated to Landcare, " Maxine said.
"It has been wonderful working with the Peel-Harvey Catchment Council and participating in natural resource management across the catchment. The opportunity to be the voice for the Upper Catchment in my role as a PHCC Community Board member has been a rewarding and memorable experience," she said.
Maxine's Landcare highlights have included interstate tours on country with the South West Aboriginal Land and Sea Council, and the highly successful "Come to the country and have a dirty weekend" campaign, which attracted city folk to the country to help plant trees.
Maxine chuckled as she recalled the 'dirty weekend'. "The campaign lived up to its name, attracting families and 4WD groups to come out for the weekend to help with revegetation programs. By the time they packed up to leave they were covered in dirt, but uplifted by the experience. We all had a great time and it was an example of how many hands and lots of laughter make light work," she said.
Following on from her long-standing Board experiences, Maxine continues to be heavily involved in Landcare programs and helps other landowners and community groups in many ways including with funding applications.
She is currently working with the Lions Dryandra Woodland Village to develop bushland corridors for native animals to move safely across the landscape. Maxine is also assisting landholders to secure funds for creek line fencing to reduce stock access, and to help control feral pigs to reduce their destructive behaviours.
Andy Gulliver praised her achievements both on the Board and as committed community member, noting the enormous impact one person can make to Landcare.
ENDS
Media Contact: Jane O'Malley, Chief Executive Officer, Peel-Harvey Catchment Council, Jane.Omalley@peel-harvey.org.au , (08) 6369 8800
Click here to view or print pdf …