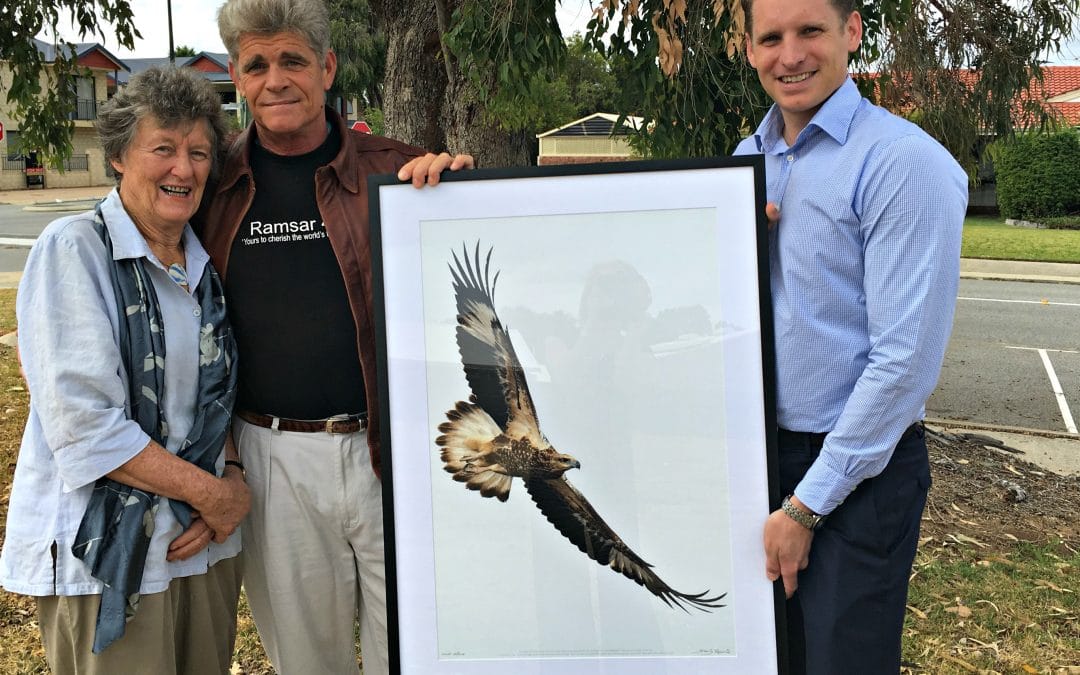 21 January 2016… In celebration of World Wetlands Day on Tuesday 2 February 2016, the Peel-Harvey Catchment Council (PHCC) joined award-winning photographer David Rennie when he presented Andrew Hastie, Member for Canning with one of his all-time favourite photographs, titled Lone Eagle.
The dramatic image of a lone eagle soaring above the Peel-Yalgorup Lakes symbolises the significance of the Peel-Harvey's Ramsar-listed wetlands – the natural canvas for the artist's work.
"Our Ramsar Site 482 is one of the world's most important wetlands. It is the most diverse estuarine complex in south-western Australia and supports vulnerable and critically endangered species and communities including the Lake Clifton Thrombolites," said David Rennie.
Jan Star, deputy chair of the PHCC, noted that the importance of wetlands and the site's global significance was still unknown to many members of the local community.
"Wetlands keep our landscapes healthy and productive. They host a huge variety of life, protect our coastlines, provide natural defences against river flooding or storm surges and store carbon dioxide, helping to regulate climate change."
"They are not only vital to the health of the environment, our local wetlands also support industries such as agriculture, fisheries, forestry and tourism by supplying water for crops, stock and people, maintaining water quality, providing habitat for commercial species and having cultural and recreational values," she explained.
David Rennie's renowned images of birdlife captured in their spectacular habitats are a powerful reminder of the importance of protecting and conserving our natural resources.
This was evident in a handwritten note to David Rennie from Andrew Hastie, which highlighted the personal impact the Lone Eagle image had made after viewing his compilation book, Art in Nature.
"Being awarded for your work is a great feeling, but perhaps more rewarding is finding out that what you do reaches out and touches another human being,' said David Rennie.
Andrew Hastie said the image, which he intends to hang in his office, will serve as a reminder of the opposing strength and fragility of nature, and the ongoing work required to preserve our local wetlands.
"This story is a great example of how we can link the wetlands and people. Education and awareness raising of the site's significance at a local level will support our community to become champions for the protection of the Ramsar system," said Jan Star.
"If we don't come together as a community to understand how to use our wetlands wisely, in the future the lone eagle may not be seen circling overhead," she said.
World Wetlands Day is celebrated the world over on 2 February each year and is a time to reflect and understand the global significance of what we have in our own backyard.
ENDS…
Media Contact: Annette Brown, Communications Co-Ordinator, Peel-Harvey Catchment Council, annette.brown@peel-harvey.org.au , (08) 6369 8800