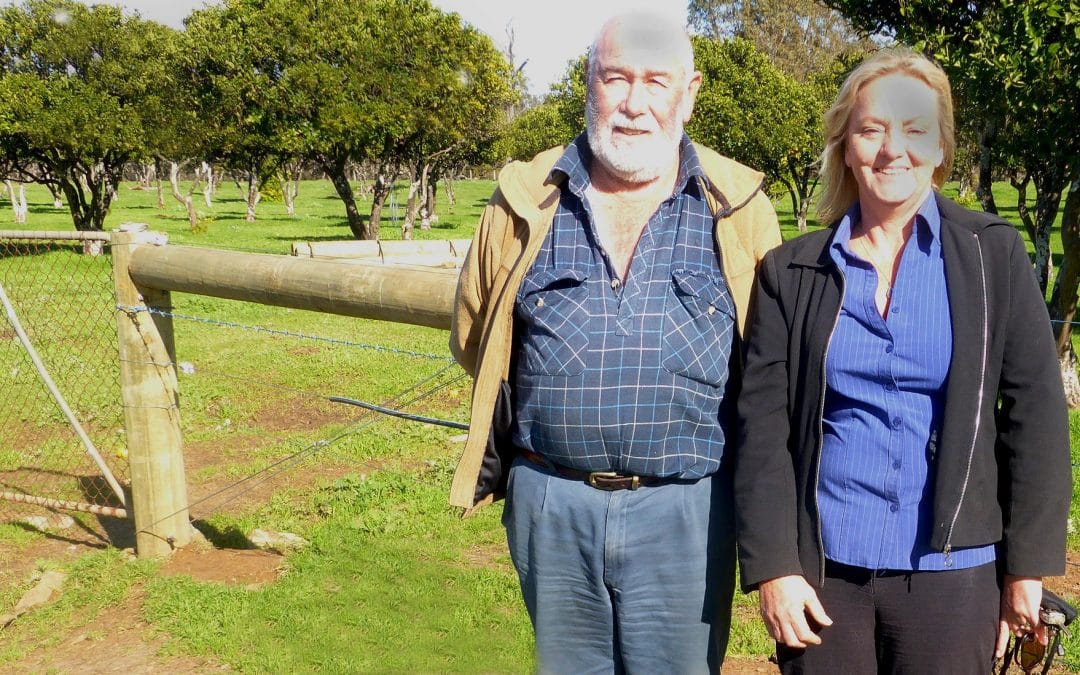 Image: Peel-Harvey Catchment Council project officer Johanne Garvey and landholder Gordon McLarty inspect recent fencing to support erosion control along the Murray River. 
4 July 2016… Local landholders are continuing to support the Peel-Harvey Catchment Council (PHCC)'s Rivers 2 Ramsar project activity to manage and control erosion along the Murray River.
The PHCC is leading a landscape scale erosion control program as part of their Rivers 2 Ramsar initiative to protect 360 hectares of riparian land adjacent to the Murray River.  The project spans 33 land parcels and stretches along 27 kilometres of riparian foreshore.  It is funded by the Australian Government and is made possible by inkind contributions from private landholders such as Meelon farmer Gordon McLarty.
Mr McLarty has lived on his land all his life and is undertaking 2.1 kilometres of fencing along the riverbanks.
He believes managing the environment properly will lead to its preservation.
"We have around 100 acres of bush and land that flanks the riverbanks.  This isn't the first time we've worked with the Peel-Harvey Catchment Council to install riverine fencing.  They are great to work with. They are on the same wavelength as I am.  I really want to preserve what we have for future generations, and the work we are carrying out will prevent erosion of the river banks and enable better use of grazing pastures.  The end result will be a regeneration of the banks, which helps the whole ecology of the river," he said.
Peel-Harvey Catchment Council chairman Andy Gulliver said the project also involved working closely with the Department of Lands on the Crown land which makes up the majority of the Murray River foreshore buffer zone, adjacent to the private landholdings.
'Over the past 18 months, we've worked with the Shire of Murray and Department of Water undertaking a review of the Mid-Murray River Action Plan which has set priority actions for river restoration.  As the Regional Group responsible for the Peel-Harvey, our commitment is to support landholders such as Gordon McLarty to assist them in protecting our waterways and biodiversity with the aim to increase and enhance wildlife corridors across the catchment. These areas are infested by weeds, including Weeds of National Significance, which are impacting private and public landholdings and in need of urgent management," he said.
This project is supported by the Peel-Harvey Catchment Council, through funding from the Australian Government.
To view PDF click here
ENDS
Media Contact:  Jane O'Malley, Chief Executive Officer, Peel-Harvey Catchment Council, Jane.Omalley@peel-harvey.org.au, (08) 6369 8800
We acknowledge the Noongar people as Traditional Custodians of this land and pay our respects to all Elders past and present