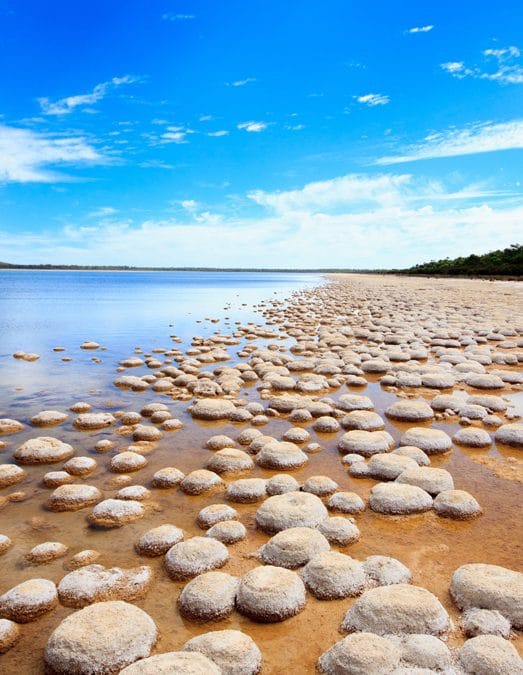 How do you tell if a thrombolite is dead or alive? The presence, or absence, of a sticky "microbial community" covering may be the answer.
Viewing the Lake Clifton thrombolites from the purpose-built boardwalk on the east side of the lake is a popular tourist activity, but few people stop to think whether the structures they are looking at are actually dead or alive.
The dome-like structures are actually formed by complex microbial communities that are bound together to form a gelatinous mat. This microbe aggregation synthesises the physical structure of the thrombolite as part of its normal metabolic process whereby calcium carbonate-rich groundwater and sediments suspended in the lake water combine to form the hard dome-shaped structure. Sometimes confusingly referred to as "Living Rocks", it should be remembered that the living part is the microbial mat – not the physical dome that these microbes create.
Getting a better understanding of how many thrombolites have active microbial mats, the composition of those mats and the impact of declining groundwater flows on their growth is the focus of work currently being undertaken through a PHCC/DBCA/UWA partnership. Together, scientists from these organisations are investigating the most effective way to perform these health checks on this threatened community of more than 1 million thrombolites to help us help them to recover.
The project work at Lake Clifton is being delivered by PHCC through funding from the Australian Government's National Landcare Program