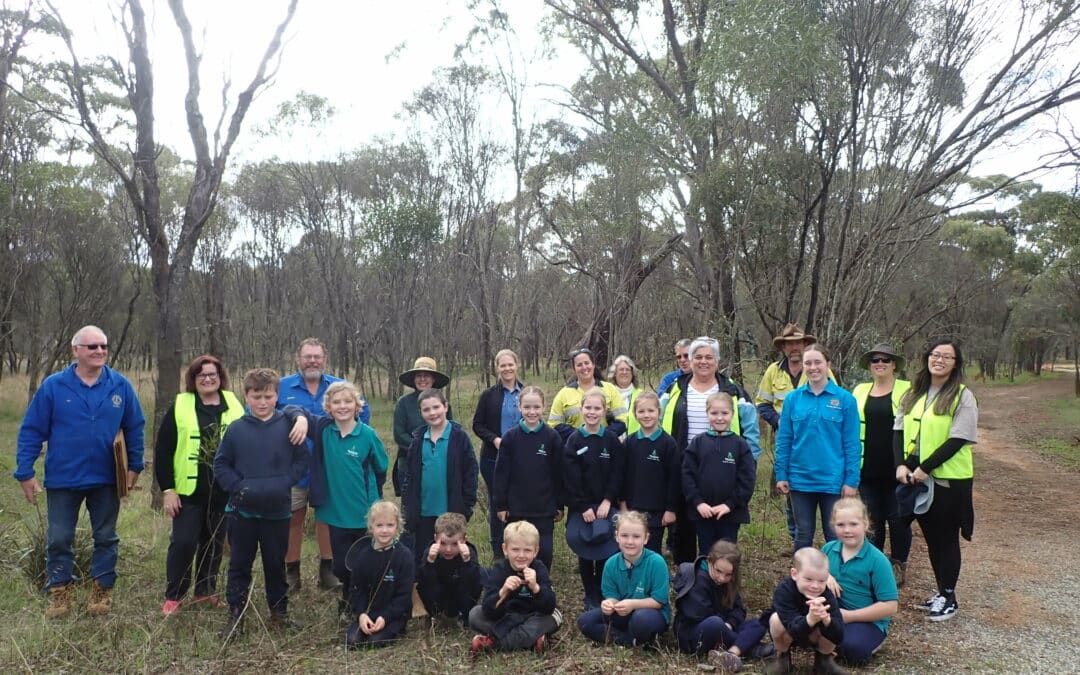 "My family is from here, this is our country…We acknowledge the past, and now I live for the future."
These are the words of Jock Abraham who Welcomed us to Country before planting at the Pumphreys Bridge River Action Plan site on Thursday 23 June. The site is located on the Hotham River 25km east of Wandering, and was historically a permanent camping ground for Noongar families. Today it provides an enduring anchor point for gathering to honour memories and culture.
The weather teetered on drizzly but gave us a few rays of sunshine during the first restoration effort at Pumphreys Bridge under the Hotham-Williams River Action Plan. The day began with a cuppa and morning tea in the CWA hall, provided by local members of the Association. The Wandering Primary School, Lions Club, Shire staff and Councillors joined PHCC officers in placing the seedlings as a buffer between the camping area and the remnant bushland attached to the Hotham River. Local native species were planted under the existing jam wattles, which will provide a shrubby plant layer for weed suppression and habitat for small ground-dwelling fauna species.
Pumphreys Bridge is truly shared country, layered with rich Noongar history and more recent Wadjela ways of life reflected in the camp and picnic grounds, old sports grounds (now used for camping), and CWA hall. The Wandering Lions Club have played a big part in the establishment and maintenance of picnicking facilities at the site for many decades. They also provided the planters on the day with a much-needed sausage sizzle!
PHCC is honoured to be working at Pumphreys Bridge with all of the community who are attached to the site.
This project is funded through partnerships with both South32 Worsley Alumina and Newmont Australia (Boddington)