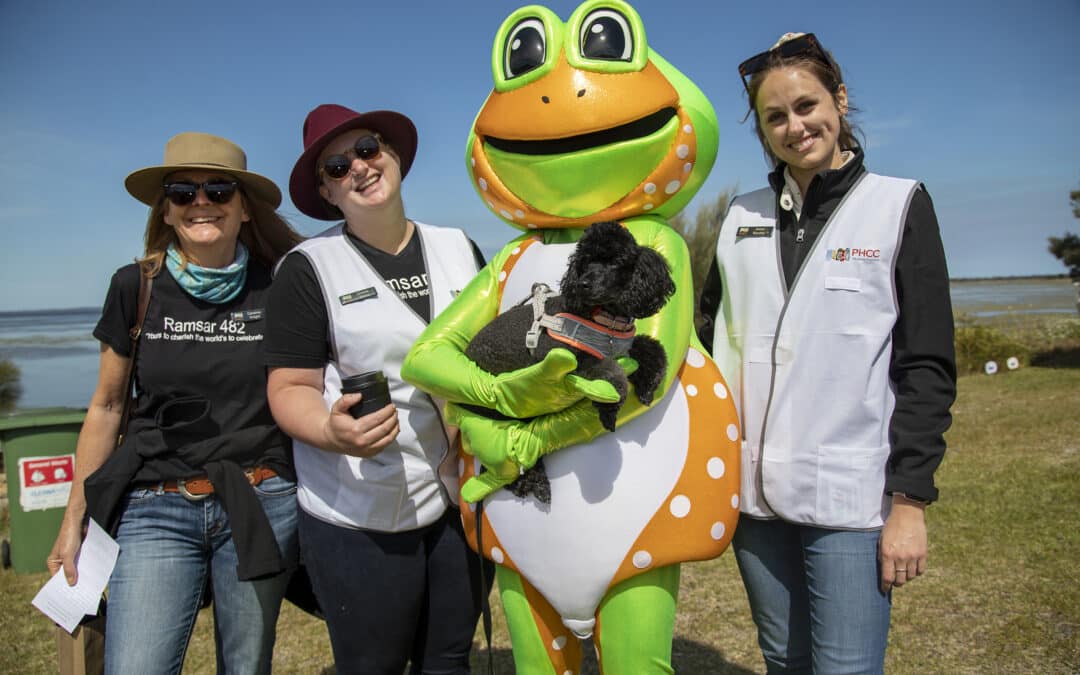 Nature enthusiasts of all ages are invited to get involved with the Wetlands Weekender Mini Festival these school holidays in Mandurah on Saturday 8 and Sunday 9 October. Celebrating the waterways that are the lifeblood of our region, the Peel-Harvey Catchment Council's annual festival program is packed with fantastic family-friendly activities.
Sunday's festival is the highlight of the weekend but the fun begins with Saturday's program kicking off not one but two Nature Photography Workshops with Sharon Meredith Photography where participants will venture into the great outdoors to discover photography basics, along with tips and tricks for snapping wetland landscapes. The morning workshop is targeted towards budding photographers and the afternoon workshop is designed especially for kids aged 4 to 13 years old..
Saturday's main event is a Peel-Harvey Estuary boat tour aboard the Dancing Dolphin with expert tour guides Jeremy Ringma and Steve Fisher sharing their stories about the abundant wildlife and wetland environment. Participants will experience this internationally significant wetland from the water before docking at Len Howard Conservation Park to explore the park on foot with local Noongar Representative George Walley and local Zoologist Sarah Way. The twilight boat trip home includes a smorgasbord of local produce and refreshments.
Sunday 9 October is 'World Migratory Bird Day' and the festival continues with a free family-friendly event – the Wonders of Our Wetlands! Coodanup Foreshore will come alive from 8.30am with live music, vibrant market stalls, and various food and coffee vans. Come and join in with a range of exciting interactive activities for all ages offered by Coastal Waste Warriors, Mandurah Environment and Heritage Group, Estuary Guardians, BirdLife WA, Ways to Nature, Sharon Meredith Photography and others at their foreshore stalls.
As part of the Wonders of Our Wetlands event on Coodanup Foreshore participants can bring their dogs to meet with City of Mandurah rangers and BirdLife WA for the Dog's Breakfast between 8.30am to 10.30am. Bring your furry friend along and receive a free bacon and egg roll! For those who would like to get hands on in looking after the wetlands, join the Pave the Way clean up with Coastal Waste Warriors, starting at 9am and concluding at 11am.
PHCC's Chairperson Caroline Knight says "The Wetlands Weekender festival brings the community together to celebrate and learn more about our Peel-Yalgorup Wetlands, recognised as internationally significant through the Ramsar Convention for the habitat they provide for migratory birds and for a diversity of other species such as fish, crabs, dolphins and threatened communities like the thrombolites at Lake Clifton. We invite anyone who is interested in the natural environment to join us for the festival to explore our waterways and especially to welcome back migratory birds to our shores after their breeding season in the northern hemisphere".
Be sure to visit the festival webpage for further information and to secure your place for the ticketed events that are selling out fast ahead of the festival weekend: https://www.peel-harvey.org.au/wetlands-weekender
The Wetlands Weekender Festival is supported by the PHCC through funding from the Australian Government's National Landcare Program.
ENDS
Media Contact: Jane O'Malley, Chief Executive Officer, Peel-Harvey Catchment Council, Jane.Omalley@peel-harvey.org.au, (08) 6369 8800