by Jane O'Malley
PHCC were pleased to host the EPA Board when they visited the Peel-Harvey Catchment recently.  A flight over the landscape and a tour on the Estuary provided a great oversight of the challenges and opportunities facing our beautiful catchment.
At the PHCC's invitation the EPA Board held their August Board meeting in Mandurah, with a tour of the Peel-Harvey Catchment the following day. Michelle Andrews, Director General for the Department of Water and Environmental Regulation also joined us for the tour.
Our tour started with a 1 hour flight in some very little planes, starting from Murrayfield Aerodrome. We divided into two (2) groups, with our CEO Jane O'Malley and Operations Manager Melanie Durack as tour guides in one of the planes, and our Science Advisor Dr Steve Fisher guiding the other (even smaller plane).
A flight over the Serpentine River, Lake Goegrup and the Estuary was a must, followed by nice slow, low flight over the Swan Coastal Plain. At this time of year it was perfect to see just how much water is on the landscape and see the interconnectedness between natural waterbodies and man-made drains, dams and such. It had been pouring with rain for days and we were fortunate to have a good break in the weather, and see the extent of the water, particularly how wet the paddocks get and how the water sits on the landscape when it is saturated to this extent. When it's this wet it is hard to imagine how dry it gets during summer, and how our rainfall is declining so significantly.
We then flew over the Northern Jarrah Forest and viewed the extent of current clearing and fragmentation from various mining operations. It is difficult to get this perspective from the ground or even aerial photographs so it was excellent to have a chance to provide this viewpoint.
A bit of cloud cover came in and couldn't get quite as far south as we had hoped but for everyone it was a good reminder of the challenges our forest is facing, particularly with competing needs for mining expansions and exploration.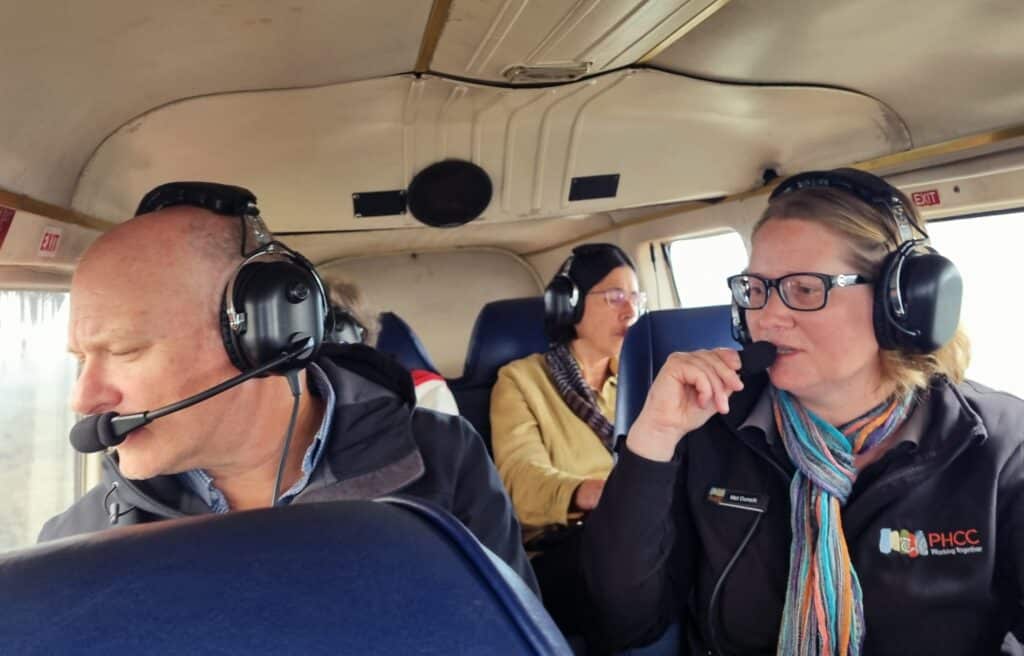 Back on the ground again and we headed to our Mandurah office so that they could meet some more of the team and have a good round table talk about a range of topics, particularly the challenges for community to have an effective voice in the protection of natural assets. We discussed process and timeframes, high priority assets and we made what we think were some good suggestions to help get better outcomes, aligned with the Environmental Protection Act objective.
We finished the day with our traditional tour of the Estuary with Mandurah Cruises. PHCC Board Members and field staff (the important ones that do the work on the ground) joined us along with the Mayor of Mandurah, Shire of Murray Shire President and others.  Paddi Creevey M.C.'d this section while Dr Fisher and others explained the importance of our Ramsar listed Estuary to our local economy, lifestyle and environment.  EPA Chairman, Matthew Tonts and his Board were great with open and honest discussions, and loads of questions between everyone.  All in all a great, but sobering day.  We all came away better informed and the PHCC team with more fire in our bellies to keep working hard to protect our fabulous Catchment.