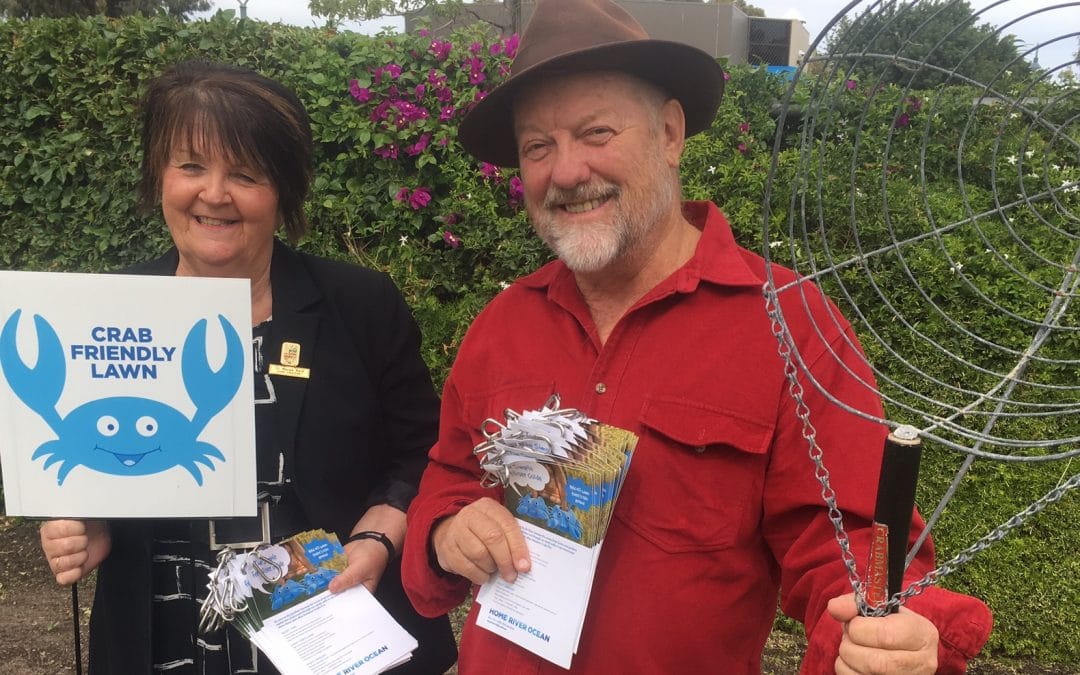 Garden guru Neville Passmore with Shire of Murray President Cr Maree Reid pictured beside garden with Home River Ocean lawn signage and fertiliser guides
8 April 2016 … Peel-Harvey garden lovers are being urged to create crab friendly lawns in the ongoing 'Save the Crabs, Then Eat Them' campaign.  Garden guru Neville Passmore has teamed up with the Peel-Harvey Catchment Council and Shire of Murray to promote the message of the Home River Ocean campaign which encourages residents to think about how and when they fertilise their lawns – for the sake of our waterways and crabs.
Mr Passmore said holding off on fertilising your lawns when there was rain forecast and waiting until Spring and Autumn has benefits for local residents.
"It keeps more fertiliser on the lawn where it does its job, rather than being washed away through our sandy soils.  It also promotes grass root growth instead of blade growth which makes the entire lawn stronger and healthier," he said.
Shire of Murray President Cr. Maree Reid said everyone from home owners to turf farmers and landscaping contractors have a role to play in protecting our crabs.
"A small change in lawn care behaviour can become one of the most effective actions in helping to protect our waterways where Blue Swimmer Crabs live," she said.
The Home River Ocean campaign is an initiative of the South West Catchments Council (SWCC) and is a collaborative partnership with the Peel-Harvey Catchment Council and others.
Free Home River Ocean fertiliser guides are available to provide information on how to fertilise at the right time, using the right amount. Spring and Autumn are the optimum time to apply the right fertilisers as many plants are dormant in Winter and cannot absorb nutrients.   The guides are available from the Shire of Murray Administration Office as well as at Department of Fisheries Mandurah and the Peel-Harvey Catchment Council.
PHCC's chairman Andy Gulliver said improving our water quality by reducing nutrients entering the Peel-Harvey's waterways, estuaries and ocean is a simple thing for all residents who loved their lawns and our crabs.
"The fertiliser guides raise awareness that fertilising in winter washes nutrients into waterways, estuaries and the ocean, potentially damaging crab and fish stocks," he said.  The project is supported by the Peel-Harvey Catchment Council (PHCC) through funding from the Australian Government's National Landcare Programme.
ENDS… Contact:  Jane O'Malley, Chief Executive Officer, Peel-Harvey Catchment Council, Jane.Omalley@peel-harvey.org.au , (08) 6369 8800