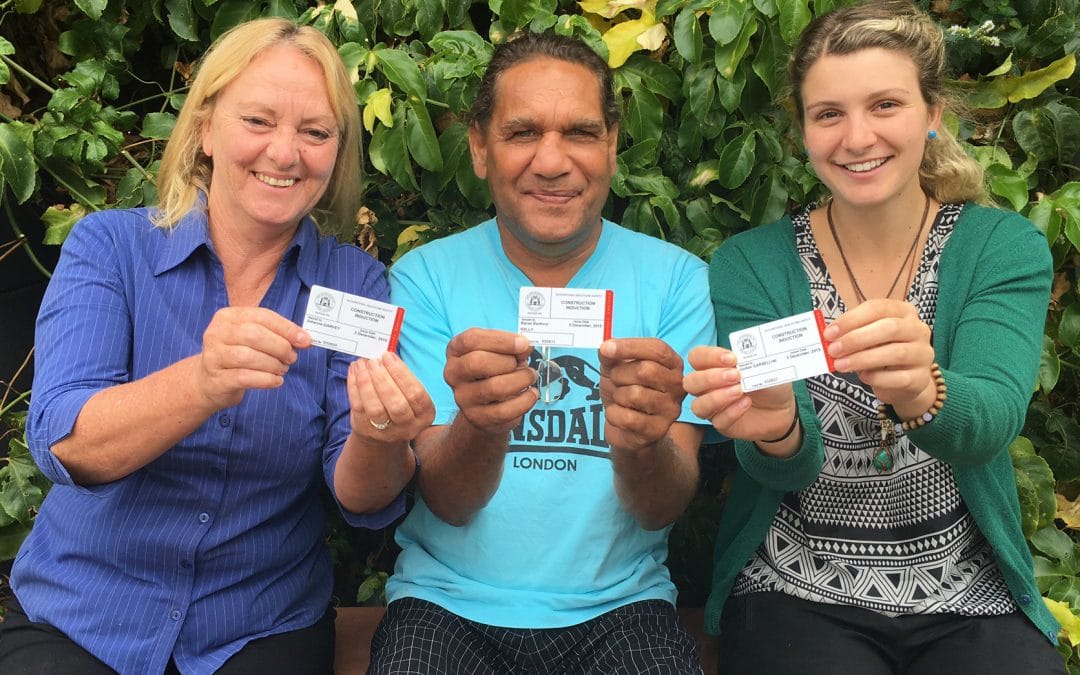 11 February 2016…Eight local Noongar community members have recently completed training and gained their national CITC White Card (Construction Induction Training Card) in an initiative of the Peel-Harvey Catchment Council (PHCC) designed to build their future employment capacity in Natural Resource Management.
The White Card covers the National Code of Practice for construction work which has been endorsed by Safe Work Australia. It covers risks and hazards in the workplace and delivers a nationally consistent approach to construction training given to workers across Australia.
"There is more opportunity for jobs with a White Card – it's for life," said local community member Baron Kelly.
PHCC chairman Andy Gulliver said the risk assessment training covered is applicable for on-ground works such as those undertaken by the PHCC and the Noongar community members on Landcare projects.
"White Cards from any Australian state or territory are recognised nationally and are a key factor in accessing jobs. The practical training addresses a barrier identified by our community. It benefits both the PHCC and the participants of the course as we can do more together to manage the catchment's natural resources." said Andy Gulliver.
The White Card is usually gained in an on-line course, however the PHCC worked with WA training provider Aveling to conduct the skills-based training face-to-face with the Noongar participants. This was tailored to suit participants' needs.
Andy Gulliver said the White Card provides WHS and skill requirements linked to working on country and would also broaden opportunities for other employment.
"The White Card opens options for employment for community members and specifically enables them to work safely at on-ground projects. They can use their new White Cards to access work with us on country and also with local employers who require their staff and contractors to hold a White Card," he said.
This project is supported by the Peel-Harvey Catchment Council through funding from the Australian Government.
ENDS
Media Contact: Jane O'Malley, Chief Executive Officer, Peel-Harvey Catchment Council, Jane.Omalley@peel-harvey.org.au , (08) 6369 8800
Click here to view pdf…