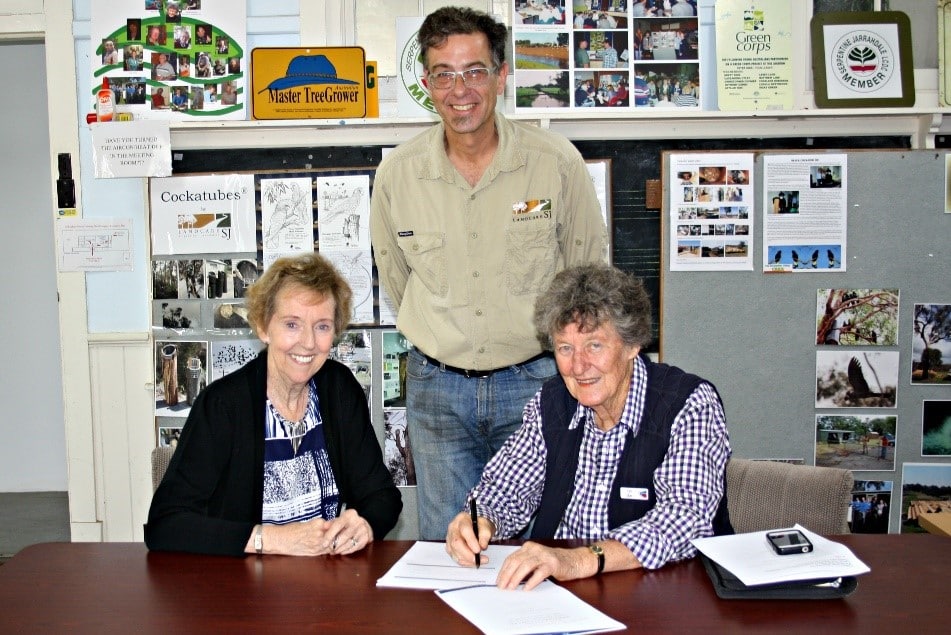 Landcare SJ Deputy Chair Colleen Rankin and Executive Officer Francis Smit signing funding agreements for on-ground action on threatened ecological communities with Peel-Harvey Catchment Council Deputy Chair Jan Star AM
12 April 2016… Natural resource management in the Serpentine Jarrahdale region has received a $64,940 boost with Landcare SJ successfully securing four Community Environment Grants.
The Peel-Harvey Catchment Council's inaugural round of community grants is funded through the Australian Government's National Landcare Programme. Landcare SJ projects will support on-ground actions for the protection of threatened ecological communities in four different locations. Actions include dieback treatment, weed control and seed collection for future projects.
Two projects will reduce threats in the nationally significant Brickwood Reserve, Byford and Duckpond Reserve, Oldbury.  The third project will improve the resilience of a threatened ecological community on private land at Serpentine, and the last focuses on improving the health of a threatened ecological community in North Dandalup, in a partnership with North Dandalup Primary School.
Landcare SJ deputy chair Colleen Rankin said the group was delighted to receive funds to protect and enhance biodiversity values in the local area.
"These endangered woodlands are important environmentally, socially and aesthetically as they make our local natural environment the wonderful place it is to live.  We can now continue to work with the Shire of Serpentine Jarrahdale, local community groups and, in the case of Mundijong Road, the Public Transport Authority to eradicate weeds and collect seed from these sites to revegetate the areas that have become degraded. Landcare SJ has a number of community groups committed to looking after areas such as these, but we wouldn't be able to continue our work without the support of the Peel-Harvey Catchment Council," she said.
Peel-Harvey Catchment Council's deputy chair Jan Star said the Community Environment Grants support local communities to undertake projects that protect natural assets in the region.
"Projects focus on practical actions that maintain or enhance habitat, threatened communities, migratory species or the ecological character of the Peel-Yalgorup Ramsar site.  We are very pleased to be able to facilitate grants for these four significant Serpentine Jarrahdale sites, and are grateful that Landcare SJ is there to deliver local projects with the local community" said Jan Star.
This project is supported by the Peel-Harvey Catchment Council through funding from the Australian Government's National Landcare Programme.
ENDS…
Contact:  Jane O'Malley, Chief Executive Officer, Peel-Harvey Catchment Council, Jane.Omalley@peel-harvey.org.au , (08) 6369 8800