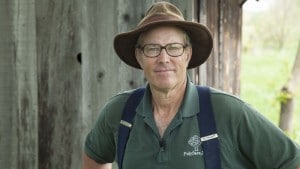 Joel Salatin, who's farm was the focus of the popular Polyfaces documentary, has gained international fame and attention due to his sustainable farming approach and business success. Acknowledged by Time Magazine as the world's most innovative farmer, some also consider Joel as the most eclectic thinker from Virginia since Thomas Jefferson. His success story of setting up and running a thriving, profitable, yet ethical and sustainable farm business has been shared with thousands around the world.
The Peel-Harvey Catchment Council is pleased to be supporting a one-time only masterclass hosted by Joel, through funding under the Australian Government's National Landcare Program. This masterclass will take place in Binningup on the 4 March at Runnyemede Farm (located at 183 Runnymede Road, Binningup). Tickets are available on Eventbrite.
Topics on the day will include:
multi-speciated pastured livestock
water
fertility
infrastructure design
leasing land
the people component
implementing memorandum of understandings with contractors, as an alternative to employees
performance-oriented compensation packages
shared risk partnerships
building fiefdoms
marketing
whys and wherefores
on-farm restaurants
electronic aggregators
metropolitan buying clubs & more.
Chair of Peel-Harvey Catchment Council Andy Gulliver said having an international expert of Joel's calibre to discuss sustainable farming is a huge boost to the local farming industry, and to the sustainable agriculture cause in general.
"Joel is a well-known and respected farmer of international fame, and is fantastic proponent of the sustainable agriculture movement. We work closely with many of our hard-working farmers across the Peel-Harvey catchment, and want to support their efforts towards a more resilient and profitable landscape" Mr Gulliver said.
For further information about this event and the work of the Peel-Harvey Catchment Council, please visit the Peel-Harvey Catchment Council's website at www.peel-harvey.org.au
ENDS
Media Contact: Jane O'Malley, Chief Executive Officer, Peel-Harvey Catchment Council, Jane.Omalley@peel-harvey.org.au, (08) 6369 8800
We acknowledge the Noongar people as Traditional Custodians of this land and pay our respects to all Elders past and present