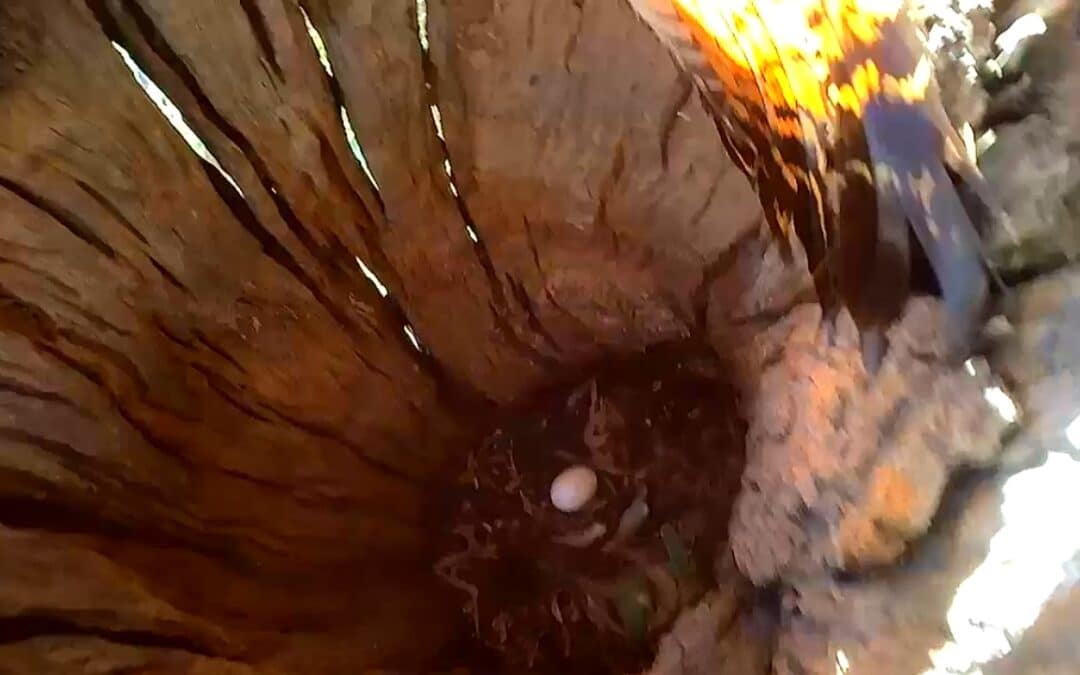 by Megan LeRoy
Now that spring has arrived, Carnaby's Black Cockatoo and Forest Red-tail Black Cockatoos are currently incubating eggs and young chicks in sites across the Peel-Harvey.
In September, PHCC, Birdlife and Landcare SJ officers identified five Carnaby's Black Cockatoo hens on eggs in Lake Clifton and Mandurah area and two Forest Red-tail Black Cockatoos on eggs in Mandurah and Keysbrook. The Red-tails were in natural tree hollows – Tuart and Marri, whilst all the Carnaby's were is artificial nesting hollows.
Spring is the known breeding season for Carnaby's Black Cockatoo and a preferred breeding season for Forest Red-tails who also like to breed in Autumn but can breed all year round. Early winter rains normally predict an early nesting season for the Carnaby's and that has been true here in the Peel-Harvey with Carnaby's laying eggs in late August.
Carnaby's lay 1-2 eggs which they incubate for 30 days until hatching. They then raise hatchlings in hollows for another 70 days until they fledge. The female Carnaby stays mostly on the nest and is reliant on the male to bring her food. She will leave the nest to drink a couple of times a day. It is vital there are reliable food sources within 6-12 kilometres of the nest and water within a couple of kilometres.
Carnaby's eat a variety of foods including native seeds of marri, jarrah, banksia, hakea and grevillea. They also search for grubs under the bark of plants and nectar from flowers. Exotic species such as pine, macadamia, corkscrew/storksbill weed, and canola provide edible seeds.
Carnaby's Black Cockatoo is an endangered species and its habitat (nest and forage vegetation and water sources) needs to be protected for breeding success. PHCC gets to work with some fabulous landholders that implement on ground-works to support Black Cockatoos now and into the future.
PHCC's project officers will undertake follow-up nest checks in October to identify any new breeding and check up on the young chicks. If you think you may have nesting Black Cockatoos in your neighbourhood please contact Megan LeRoy on megan.leroy@peel-harvey.org.au or 6369 8800