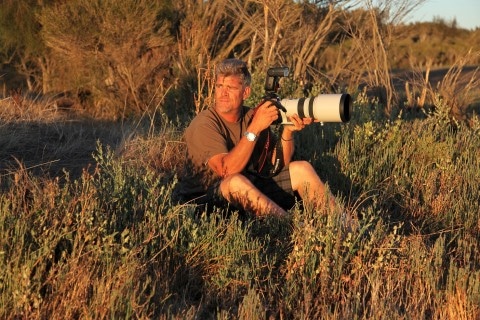 Spend an Evening with David Rennie and Friends:
Mandurah Performing Arts Centre on 10 December 2014.
Passionate wildlife photographer, David Rennie, returns to the Mandurah Performing Arts Centre on Wednesday 10th December with some friends for an evening of imagery, storytelling, song and dance in celebration of the Ramsar 482 Wetlands. David Rennie says the evening's entertainment will take the audience on a journey through our waterways and wetlands.
"There will be murder, deceit, anger, hatred, happiness, joy, love and laughter," says David. "We have some amazing talent who have come together to celebrate our globally significant Ramsar 482 Wetlands and foster discovery, understanding and awareness of this treasure. Together, we can make a difference."
The evening will include a spirited performance by Binjarreb Middars Dance Group, the Madjitil Moorna Choir, a recital from nature poet Annamaria Weldon, a special address by Pip Newman, Men of the Trees and 2013 Peel Volunteer of the Year, and an artistic visual tribute to the Peel-Harvey region by David Rennie which forms the introduction to his new book, 'Art in Nature'.
As documented in the excellent episode of ABC's Australian Story, David credits his love affair with photography to when he was lured out of his car by the sight of a passing bird overhead in 2007.
That moment prompted him to seriously get into his photography, learning the skills and buying the equipment to allow him to capture better and better photos. David's passion led to his stunning photo, Near Miss, winning the prestigious Australian Geographic ANZANG Nature Photographer of the Year award in August 2013.
An Evening with David Rennie and Friends is presented jointly by the Peel-Harvey Catchment Council, City of Mandurah, Lotterywest and the Australian Government. Guests are invited to linger in the foyer for coffee and cake after the event and explore the many displays from groups associated with the Wetlands providing information on how to become engaged with this world renowned asset. Copies of David Rennie's new book, 'Art in Nature' will be for sale at the soiree.
What: An Evening with David Rennie and Friends, 10 December 2014, 6.30pm
Where: Boardwalk Theatre, Mandurah Performing Arts Centre
Cost: $15 Adults $10 Children $40 Family Pass
Tickets from www.manpac.com.au or www.peel-harvey.org.au
More on David Rennie
ABC David Rennie Australian Story Rerun – 5 December 2014
ABC's Australian Story episode, An Unnatural History, about Mandurah's award winning nature photographer David Rennie will rerun on Friday December 5 at 6.25pm on ABC TV: Don't miss this excellent documentary, or your chance to celebrate the magic of The Ramsar 482 Wetlands during 'An Evening with David Rennie and Friends' at Mandurah Performing Arts Centre 6.30pm on Wednesday 10th December $15 Adults $10 Child $40 Family Pass from MANPAC Box Office
ENDS…
Contact: Jane O'Malley, Executive Officer, Peel-Harvey Catchment Council, Jane.Omalley@peel-harvey.org.au , (08) 6369 8800