The Hordacre weir project is one of seven projects implemented under the 'Better collaborative drainage management project' otherwise known as the 'Mayfield Project' which was designed to reduce nutrients entering the Peel-Harvey Estuary. The Mayfield project is part of the Regional Estuaries Initiative administered by the Department of Water and Environmental Regulation (DWER).
The Hordacre sub-project sees a local 'sumpland' used to store water and manage nutrients that discharge from paddock drainage and would otherwise have ended up in South Coolup Main Drain. The sub-project involved the construction of an adjustable weir that will impound water using stopboards. In the past, this sumpland was more a waterlogged dampland that did not hold water for long after rainfall. With the weir, the wetland is now expected to hold water (and nutrients) through spring and into early summer. This has the triple positive of minimizing some of the impacts of our drying climate on the wetland while enhancing the local ecosystem as well as reducing nutrients entering the Main Drain.
Landowner Richard Hordacre is keen to see the effects of the weir and replant the wetland with native species.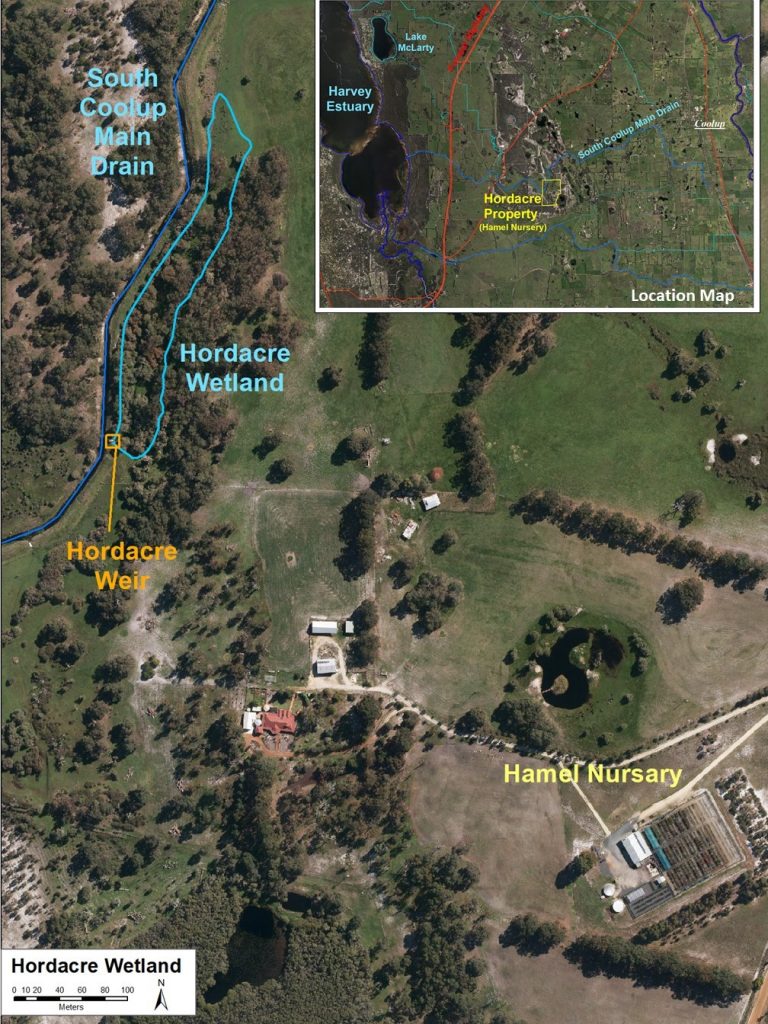 The montage of photos below show the construction of the weir which occurred on 01 May 2020
The weir is complete and now we are waiting for the arrival of the stopboards that are due in early June 2020. The stopboards will sit on the front of the box culvert work to act as a weir that will hold water in the wetland at a set height which can be altered. Once water levels in the wetland reach the stopboard height, they will overflow and flow out the old circular culvert and into the Main Drain. In that way, water levels in the wetland can be controlled and maintained at a level that provides the best habitat for the new ecosystem.
This project is part of the Regional Estuaries Initiative and is supported by the State Government's Royalties for Regions program. #WAEstuaries