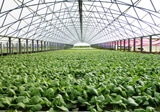 Date/Time
Date(s) - 29/05/2018
9:30 am - 4:45 pm
Categories
No Categories
Do you currently use, or are you interested in protected cropping and soil-less agriculture in Western Australia?
The Department of Primary Industries and Regional Development and Peel Development Commission are hosting a state-wide forum focussing on state, national and international trends, and exploring the opportunities in protected cropping for horticulture across Western Australia. The forum is supported by the Peel Food Zone project, part of the state government's Transform Peel initiative, and will shape its future direction.
Keynote speaker, Graeme Smith, of Graeme Smith Consulting, will provide an overview on the future of protected cropping and soil-less agriculture in WA; and Jim Kelly of Arris Pty Ltd. will present opportunities coming from the Collie Futures- Protected Cropping Prefeasibility Investigation, part of the Myalup-Wellington Water for Food project.
Guests will hear from local growers with experience in different types protected cropping, and in the afternoon will be invited to participate in workshops exploring ways to build on opportunities and overcome the constraints and barriers to protected cropping in Western Australia.
The forum is perfect for growers, industry representatives, investors and consultants; as well as regulators and planners from state and local government and university researchers with an interest in protected cropping who would like to learn more about innovative approaches to farming and food production in Western Australia
For more information, please contact Heather Percy.
To register please click here: www.protectedcropping.eventbrite.com