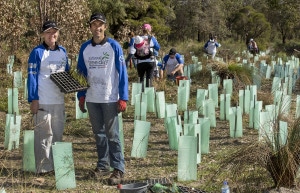 Following the success of the 2015 Community Environment grants project, Peel-Harvey Catchment Council is pleased to announce Round 2 of funding opportunities for individual grants of up to $50,000.
Community Environment Grants are funded through the Australian Government's National Landcare Programme to support local communities with projects that protect and enhance natural assets in the Peel-Harvey Catchment.
Community groups and individuals are encouraged to submit applications for funding for on-ground activities that maintain or enhance threatened species habitat, threatened ecological communities, migratory species, regionally significant species habitat (or communities) or the ecological character of the Peel-Yalgorup Ramsar site.
Priority funding will be given to individuals and groups to undertake activities to protect these areas through fencing, weed control and feral animal control.
All activities must be undertaken within the Peel-Harvey Catchment and be completed by March 30 2018.
To discuss a proposal please contact Jo Garvey on 6369 8800 or email jo.garvey@peel-harvey.org.au
ENDS
Media Contact:  Jane O'Malley, Chief Executive Officer, Peel-Harvey Catchment Council, Jane.Omalley@peel-harvey.org.au, (08) 6369 8800
We acknowledge the Noongar people as Traditional Custodians of this land and pay our respects to all Elders past and present