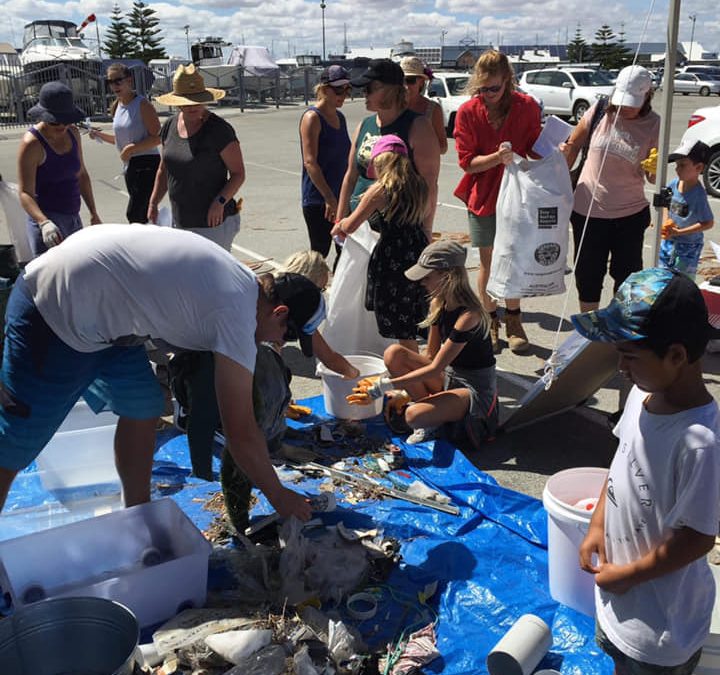 Peel-Harvey Catchment Council recently hosted two Citizen Science Workshops with Tangaroa Blue to assist with litter Clean Ups. The workshops were conducted in Mandurah and Pinjarra and were aimed at anyone interested in helping reduce the impacts of litter within their community. Twenty-two people attended, many who run regular cleans ups on the foreshores of our local wetlands.
Alison Dorn, Education Officer with Tangaroa Blue, conducted the workshops where she described how information from Clean Ups can be used to educate the community and bring about behavioural change. The process first involves separating and counting the items of litter collected from the Clean Ups and then assigning the materials into categories for entry into Tangoroa Blue's Australian Marine Debris Database. This is done through the Tangaroa Blue website www.tangaroablue.org or through their recently launched Tangoroa Blue mobile app available for Android and Apple.
Ms Dorn said "This data is vital in understanding the level of litter contamination of specific sites. Ultimately  a Source Reduction Plan can be created, firstly by identifying the main items of litter and then using that information to work with stakeholders to reduce litter at its source. The goal is to stop litter from entering our waterways in the first place."
The Australian Marine Debris Database was created to enable those who run beach Clean Up events to collect data on what they were finding using a consistent method so it can be collated into a standardised national database on marine debris. Since 2004 more than 11 million pieces of data have been input into the Australian Marine Debris Database, creating a comprehensive overview of the types of marine debris that are impacting shorelines around the country.
Two days after our local workshop, the Coastal Waste Warriors put these citizen science tools into practice at their Clean Up of the Dawesville Cut. The group collected 110kg of litter which they collated and entered into the Marine Debris database.
Kirsten Field from Coastal Waste Warriors commented "After collating the data we realised that one of the most offending items of the list were small plastic wrappers from individually wrapped mints. The group was able to identify that these mints were complimentary items handed out by a nearby café. We approached the café owner who responded positively by promising to install a much-needed bin outside the café. We desperately need more bins in this area, this is the second Clean Up in as many months with litter increasing from 70kg in the first to 110kg in the second."
Marine debris has become one of the major environmental issues worldwide and is a serious pollution issue for the Peel-Yalgorup Wetland System which includes the Peel-Harvey Estuary and nearby lakes. Over 7 million tons of plastic litter enter the ocean and waterways every year or approximately 8 million pieces per day. In Australian waters, you can find anything from a few thousand to more than 40,000 pieces of plastic per square kilometre. Plastic debris not only directly kills and injures wildlife but leads to great economic costs and losses to people and communities worldwide, including health impacts. Entanglement and ingestion are the primary types of direct damage to wildlife caused by plastic in our oceans and estuaries.
Caroline Knight, Chair for PHCC commented "These citizen science tools help us move beyond picking up litter for our Wetlands, it helps us measure the amount of litter and the kind of litter that is contaminating a site. By collecting the data we are able to track down key offending items of litter and put in place strategies that reduce litter for the specific site."
The workshop was run as a precursor to the Clean Up Peel Waterways initiative that takes place across the Peel-Yalgorup Wetland during the month of March. This year 17 teams took place in the Clean Up. In previous years over 2 tonnes of litter has been removed from the Peel-Yalgorup Wetland System during the month-long Clean Up event.
Ms Knight said "Our community does an amazing job of cleaning up our precious wetlands, these Citizens Science tools are just another way that we can empower the Clean Ups to go beyond removing litter for the site to reducing litter at its source"
If you would like to know more about how to use Citizen Science tools for your Clean Ups get in touch with Peel-Harvey Catchment Council.
The Clean Up Peel Waterways Workshop is supported by Peel-Harvey Catchment Council through funding by the Australian Government's National Landcare Program.
ENDS Media Contact: Jane O'Malley, Chief Executive Officer, Peel-Harvey Catchment Council, Jane.Omalley@peel-harvey.org.au, (08) 6369 8800.