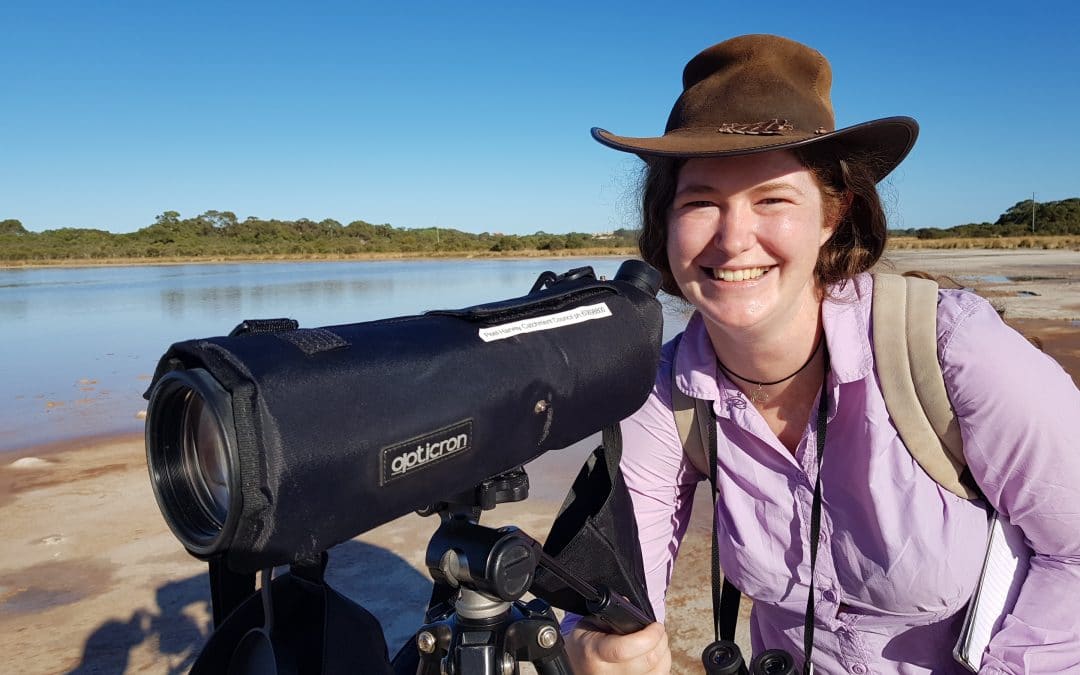 Seventy-seven volunteers have taken part in another successful Shorebird2020 Count. Shorebird2020 is a national shorebird monitoring program that also happens to be the biggest annual Citizen Science event in Australia. The program aims to gain a better understanding of the populations of the nation's shorebirds by counting the number of birds present at key sites around Australia.
The Peel-Harvey Estuary and nearby lakes and wetlands, known as the Peel-Yalgorup Wetland System, is one such key site. It is recognised as an Wetland of International Importance under the Ramsar Convention as it provides habitat for many species of waterbirds, including some that have migrated thousands of kilometres from the northern hemisphere winter. The Count took place on the 10th of February, across the entire 26,000 ha of our Ramsar wetlands. This eager group of volunteers, binoculars in hand, headed out to 15 sites representative of the entire Ramsar Wetland to survey Shorebirds.
Since 2009, Shorebird2020 has taken place annually across the Peel-Yalgorup Wetland System. Peel-Harvey Catchment Council (PHHC) coordinate the Count, in partnership with the Birdlife Peel –Mandurah Branch. This year participants included volunteers from Mandurah Bird Observers, Birdlife Groups, Local Councils, Mandurah Cruises, Ornithological Technical Services (OTS), Department of Conservation Biodiversity and Attractions and Murdoch University.
The Count embraces all skill levels from expert birders to beginners. This year the teams were joined by 12 new volunteers. These volunteers came prepared having attended the two day Shorebird Identification Workshop at PHCC in January, learning how to identify different species of shorebirds with instruction from ornithologist Nick Hart from OTS Services. The volunteers were then able to contribute their new found skills to a successful Count.
PHCC Chairman Caroline Knight said "The Peel Yalgorup System is an integral part of the East-Asian Australasian Flyway. Global data suggests shorebirds using this Flyway are under threat from habitat damage and are being impacted by urban development and associated recreational activities. The Peel-Yalgorup System represents one of 150 sites in the Count across the nation and provides important data that assist in greater conservation management of shorebirds and the site."
Over ten years ago Birdlife set the ambitious goal to run an annual Shorebird Count across Australia. Now in its 11th year, this mammoth Citizen Science project is a huge success and a benchmark for other Australian Citizen Science Projects. Next year, 2020, where the Count gets its name is the last year for the national project, however PHCC will continue to partner with Birdlife to coordinate the count at our Ramsar site.
"Shorebird2020 is an iconic Citizen project for our region and is one of the largest and longest-running in the country. It's a positive story that demonstrates what can be achieved when partners and the community unite to help protect our wetland wildlife and environment. We are very proud of these loyal volunteers who give up their weekends in February to make the Shorebird2020 Count possible." Ms. Knight said.
If you are interested in learning how to identify shorebirds and volunteering for the next Shorebird2020 count in the Peel Region please contact the Peel-Harvey Catchment Council.
The Shorebird Identification workshop and the Shorebird2020 is supported by Peel-Harvey Catchment Council through funding provided by Mandurah Cruises and the Australian Governments National Landcare Program.
ENDS
Media Contact: Jane O'Malley, Chief Executive Officer, Peel-Harvey Catchment Council, Jane.Omalley@peel-harvey.org.au, (08) 6369 8800