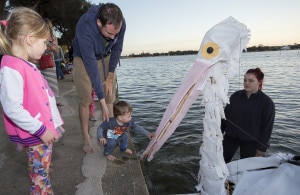 The Peel-Harvey Catchment Council is set to launch Australia's first CEPA Action Plan (Wetlands and People Plan) for a Ramsar-listed site.  The plan will promote communication, education, participation and awareness of the Peel-Yalgorup Wetland System and has involved consultation with a myriad of community stakeholders.
The Ramsar Site 482 wetlands, including the Peel-Harvey Estuary, Lake Clifton, Lake Mealup and the lands and lakes of Yalgorup National Park, are recognised as wetlands of international significance under the Ramsar Convention for their outstanding environmental, social and economic values.
In developing the plan, Peel-Harvey Catchment Council convened an expert panel of representatives from government, tourism, education, marketing, environment, planning and community.  Extensive consultation occurred during the process to ensure stakeholders have contributed to, and understand their responsibilities in implementing the plan.
The Wetlands and People Plan for the Peel-Yalgorup System (PYS) has been developed to encourage government, community and industry to become even more involved in the care and management of the Peel‑Yalgorup Wetlands System which face many threats. The Plan recommends actions to raise awareness of the Peel-Yalgorup's values and is targeted at three main groups:
people who use the wetlands,
those with businesses which benefit from the wetlands, and
those who make decisions which affect the wetlands.
These groups include both local users and visitors and the draft plan reached out to local and state government, recreational groups, businesses, community groups, schools and the general public to generate programs that raise awareness of wetland values and functions.
The official launch of the Wetlands and People Plan will be held on the 1st November.
The Plan reflects the business, social, and environmental interests of stakeholders and beneficiaries with special consideration given to local context, culture and traditions. A copy of the Plan will be distributed to all stakeholders that have a role in meeting the goals of the Wetlands and People Plan.
"We are proud to have Australia's first site-specific 'Wetlands and People Plan' ready for action. It will guide education and promote programs to increase people's understanding and appreciation of the fantastic wetlands on our doorstep.  It will inform and influence government and politicians to make decisions that will provide for better protection and management," said Andy Gulliver, PHCC Chairman.
The Wetlands and People Plan was prepared by Peel-Harvey Catchment Council through funding from Lotterywest, with support from the Australian Government's National Landcare Program.
ENDS
Media Contact:  Jane O'Malley, Chief Executive Officer, Peel-Harvey Catchment Council, Jane.Omalley@peel-harvey.org.au, (08) 6369 8800
We acknowledge the Noongar people as Traditional Custodians of this land and pay our respects to all Elders past and present