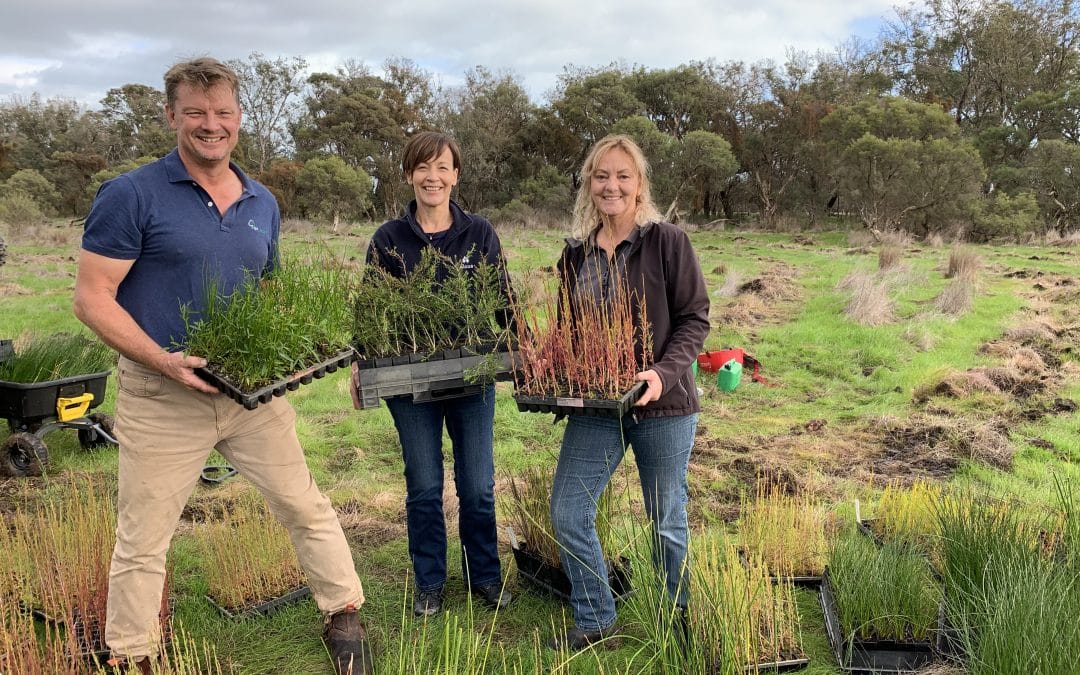 The constructed Anstey Wetland was designed and created by the late Karl Karu, an expert in wetlands management. The wetland, situated along the eastern side of Kwinana Freeway and bordering the Serpentine River is an outstanding example of environmental restoration, is
As identified by PHCC's Serpentine River Action Plan (RAP), the Serpentine River corridor adjoining the Anstey Wetlands has been subjected to a range of illegal outdoor activity including camping and four-wheel-driving which has resulted in the severe degradation of the river and surrounding bushland. Following the recommendations of the RAP, PHCC engaged and consulted with Karl Karu, local landholders and other stakeholders within the area, to create the "Karu Bilya Wetlands Restoration" project. This name is a hybrid derived from Karl Karu's name and the Noongar language word for river (Bilya)
The "Karu Bilya Wetlands Restoration" project site encompasses a variety of differing landscape types across its 30 hectares. Patches of the Banksia Woodlands of the Swan Coastal Plain, listed under Australia's environmental protection law as a Threatened Ecological Community in the Endangered classification, are present within the well-drained sandy areas.
These patches of bushland, which provide habitat for many plants and animals including the endangered black cockatoo species, are becoming increasingly fragmented across the Swan Coastal Plain and so it is very important that we protect these surviving remnants of the once vast banksia woodland.  As we proceed further into the site, riparian habitats prevail with deep black cracking clay soils and paperbark communities dominating throughout.
Through an integrated approach, PHCC's "A World of Woodlands", funded through the Australian Governments National Landcare Program and the Alcoa Foundation – funded "Connecting Corridors and Communities: Restoring the Serpentine River" projects have been adapted to complement BirdLife WA's Southwest Black-Cockatoo Recovery Program, also funded by the Alcoa Foundation.  We share the common aim of restoring patches of degraded land and in doing so, improving the health and biodiversity of the Serpentine River and Banksia Woodland and linking existing areas of bushland to create habitat to save our iconic threatened black cockatoo species.
Across a three week period before the winter rains hit, GP Forestry, the Bindjareb Middars and Perth's Gambara Indigenous Company, worked together in difficult conditions to conduct a variety of onground activities across the entire site. Within the Serpentine River foreshore areas, weeds were controlled over 5.7 hectares, 8,320 native seedlings were planted and 860 metres of fencing was installed to protect and conserve the revegetation zone. In amongst the sandy areas, weed control was undertaken across 3 hectares and 3,000 seedlings were planted to help enhance Banksia Woodland. In addition, Birdlife WA planted a number of cockatoo food and habitat species throughout the 23 hectare Anstey Wetlands. To measure the effectiveness of these restoration efforts over time, vegetation monitoring using the National Vegetation Information System (NVIS) methodology will be conducted. Furthermore, in partnership with landholders, state government departments and other organisations, illegal activities will be under surveillance to try to limit damage being caused to the area.
This project is supported by the Peel-Harvey Catchment Council through funding from the Alcoa Foundation's Three Rivers, One Estuary Initiative and the Australian Government's National Landcare Program / Regional Land Partnerships.