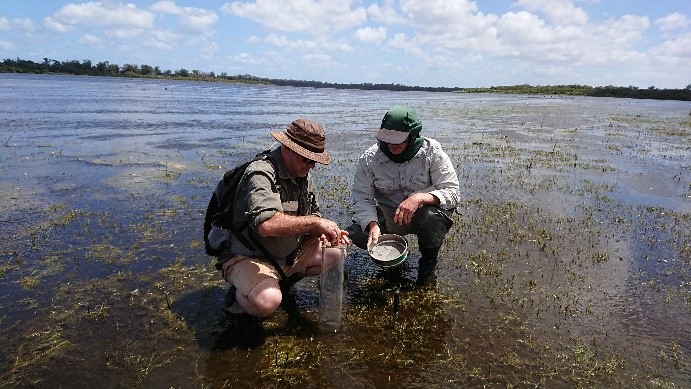 In terms of area, Lake McLarty only forms a small part of the Peel-Yalgorup Ramsar wetland system but it has a well earnt reputation for attracting disproportionally large numbers of waterbirds – but why is this the case? 
These are the sorts of things that keep wetland ecologists awake at night!  To help answer this question, DBCA and PHCC recently teamed up to try and answer this question.  Firstly, bird surveys were conducted (top picture) to see what parts of the wetland the birds preferred.  Then sampling was conducted for benthic invertebrates ("bugs" in the lake bed sediments) at both the most popular feeding areas and areas where few birds seemed to be feeding.  The bugs are the reason some birds fly half way around the world to feed here during the northern hemisphere winter so determining what bugs are present, where, and in what numbers, will help unravel the mystery of Lake McLarty's popularity. 
This work forms part of a comprehensive program of assessments at Lake McLarty supported by PHCC through funding from the Australian Government's National Landcare Program and State NRM Program.