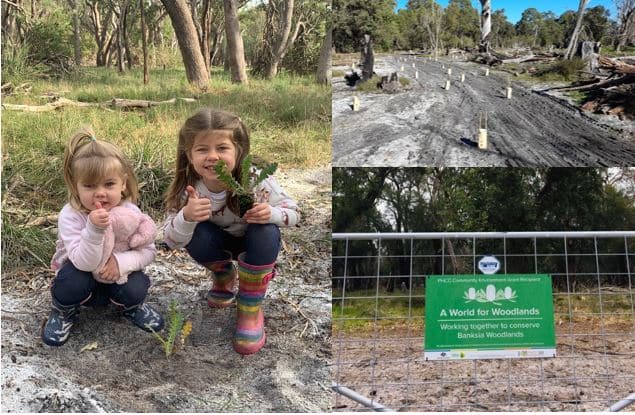 Welcome to the next generation of local Banksia custodians working to restore Banksia Woodlands of the Peel-Harvey Catchment. The Mileham family were recipients of a PHCC Community Environment Grant (CEG) that have helped them with on ground actions to protect and restore an important area of Banksia Woodland on their West Coolup property.
The grant helped fund supply of native local species and over 1km of fencing, with much of the hard work undertaken by the Pash's. The next generation of Pash's (pictured here) planted the first of over 2,500 seedlings to restore the woodland.
Cultivating a love of nature and biodiversity in future generations is as much a part of these projects as the on-ground works.
The Pash's look forward to seeing the seedlings grow and hope all the natural flora come back to the main area, and want to continue improving the vegetation in the years to come.
If you are interested in helping your patch of Banksia Woodland or another natural asset on your property, Interest contact us via grants@peel-harvey.org.au or call 6369 8801 to learn more about PHCC's 2021/22 CEG's rounds.
This project is supported by the Peel-Harvey Catchment Council through funding from the Australian Government National Landcare Program