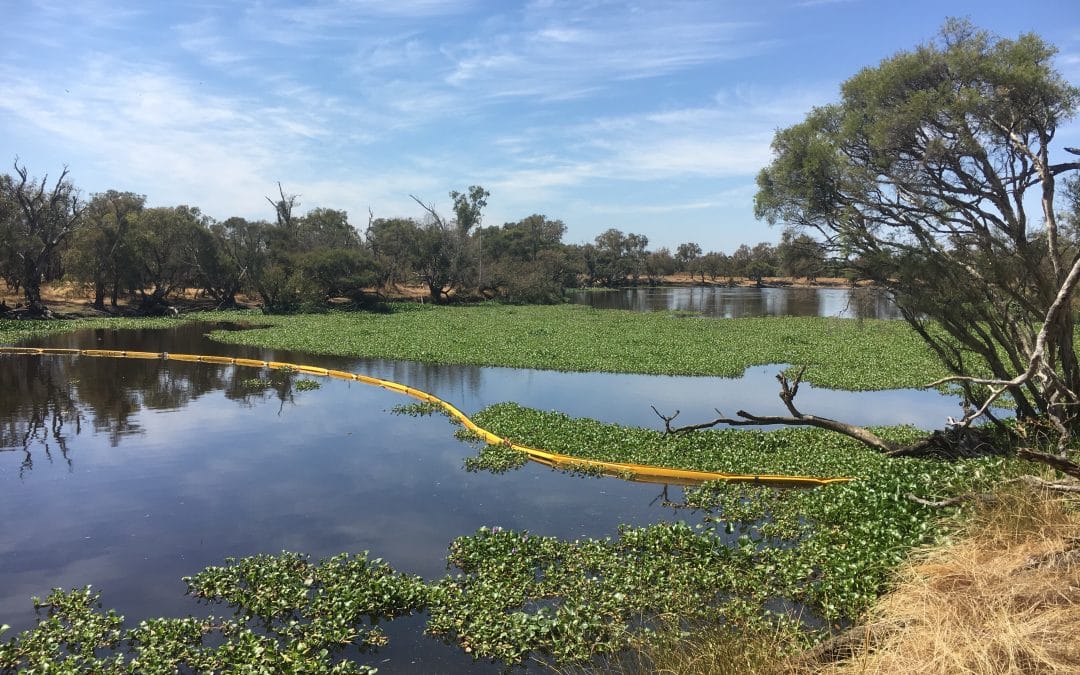 Native to South America, floating water hyacinth (Eichhornia crassipes) is a declared pest in Western Australia. It may look innocent, but it has become one of the most invasive weeds within our Peel-Harvey waterways.
This species is considered to be a food source in some overseas cultures as well as being used throughout ornamental ponds due to its floral presentation. The release of this plant into lakes and creeks within the upper reaches of our Serpentine River has enabled this species to flourish but in doing so, choke our river in places and rapidly expand as it moves downstream.
As a floating plant species, water hyacinth is very easy to spot due to its bright green wavy shaped leaves that stand upright. The flowers are very attractive and predominately lilac in colour with a small yellow mark within the upper petal. A single fruit can contain up to 300 seeds which in ideal conditions, can remain viable for up to 20 years. The growth rate is therefore incredibly fast, and it quickly forms dense mats that spread out across the water surface, eventually choking that section of the river.
A collaborative effort is underway to eradicate this weed from the Serpentine River with a number of key stakeholders being involved. At present, Department of Communities have installed large booms (pictured) at strategic points in the Serpentine River, with more proposed for the future. The objective is to hold back the water hyacinth to keep it from spreading. Once contained, the hyacinth is either chemically sprayed or manually removed from the river depending on the surrounding environment.
At times, people may be unaware that releasing hyacinth is putting the health of our waterways at risk. It is very important if you see water hyacinth to report it immediately to the Department of Primary Industries and Regional Development's Pest and Disease Information Service on (08) 9368 3080 or by using the MyWeedWatcher App on you smartphone or tablet.