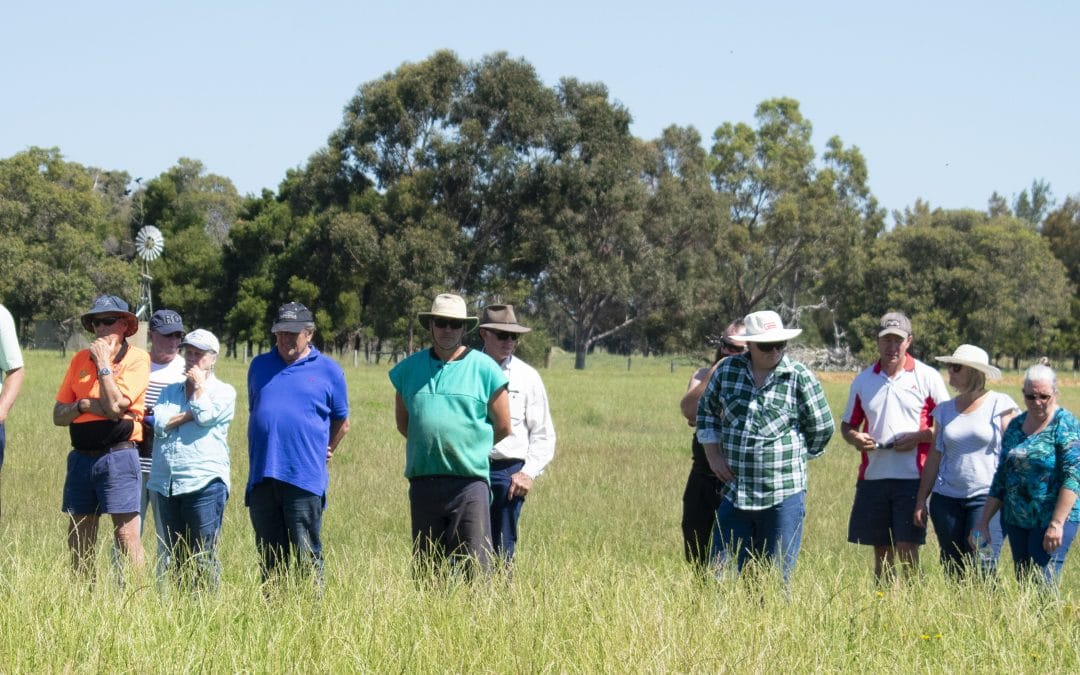 Trial results from 2019 validate national data on productivity and fertiliser use.
Nineteen phosphorus (P) trials were established across the greater South West (Peel-Harvey to Oyster Harbour catchments) to validate national data used for P recommendations in South West WA. Results from the trials were compared to the national Better Fertiliser Decisions for Pastures (BFDP) data.
Trial sites were established across a range of soil types with low to high PBI and varying soil P levels. Productivity was measured in three replicate P treatments (from 0 – 40 kg/ha P with and without basal nutrients). Based on the national data and soil tests a productivity response to P was expected on 11 of the 19 trial sites.
What we found
All 19 trial results were in line with national Better Fertiliser Decisions for Pastures (BFDP) data (i.e. trial results were within 20% of the predicted response based on national data) showing the national data is relevant to SW WA conditions.
Of the 11 trial sites predicted to have a response, only 5 sites had a significant productivity response to P applications suggesting that the national critical values for P may be higher than required for SW WA soils.
14 trials were non-responsive to P application indicating there was already sufficient P in the soil to achieve maximum productivity.
12 trials were responsive to the addition of other nutrients alone without the addition of P (nitrogen, sulphur, potassium and micronutrients) indicating other nutrients were limiting production, not P.
3 sites with low pH and low soil P were less in line with national data suggesting low pH is likely to contribute to lower than expected P response.
So, what does this mean to me as a farmer?
Results from trials to date are showing the national critical values for P used to inform P fertiliser recommendations are relevant in SW WA. You can therefore have confidence in P recommendations based on the national data that are used by Fertcare® accredited agronomists.
If your P soil test shows that your soil contains excess P for your target production levels (i.e above critical values) adding more P will not increase productivity but may add P to waterways contributing to algal blooms. If your P soil test is similar to critical values for P then maintenance P may be required to replace P removed by pasture growth.
Addressing limiting nutrients in your soil (e.g. nitrogen, sulphur, potassium, micro nutrients) and low pH can dramatically increase production and minimise unnecessary losses of nutrients to the environment.
Soil testing and comparison with critical values is critical to determine the nutrient requirements of your soil to meet your production targets.
Where to next?
The uPtake project will run to 2022 and aims to undertake 36 P trials across the South West. Results from the next two years of trials will be added to the 2019 trial data to build a robust validation of national data and enhanced understanding of P responses in SW WA soils with contemporary pasture species. 13 P trials have been established in 2020, 8 new sites and 5 continuing. Continuing sites will provide additional information on the rundown time of P in different soil types. Results from these trials, and further trials in 2021, will contribute to national data on P response curves relevant to soil types in SW WA. Results from these trials are hoped to increase confidence of farmers and industry in evidence-based fertiliser recommendations based on soil testing and national data.
More information:
Better Fertiliser Decisions for Pasture data can be found here: https://www.asris.csiro.au/downloads/BFD/Making%20Better%20Fertiliser%20Decisi ons%20for%20Grazed%20Pastures%20in%20Australia.pdf
Link to media release: https://estuaries.dwer.wa.gov.au/fertiliser-trials-protecting-waterways-and-farmers/
This project is supported by PHCC in partnership with DWER with funding from the National Landcare Program's Smart Farming Partnership Project.