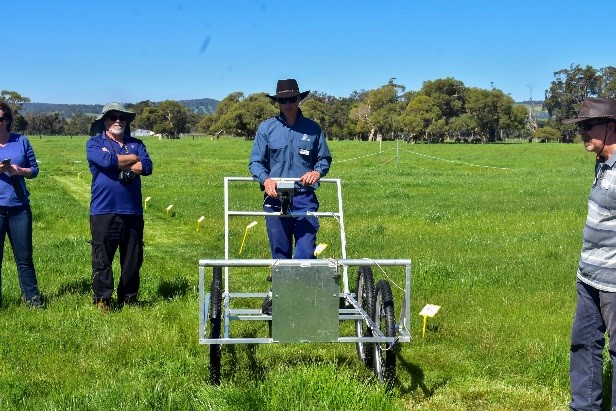 uPtake is a new partnership project of government, industry and catchment groups to improve nutrient use efficiency on grazing farms for the benefit of farmers and the environment.
The project involves fertiliser trials on 36 farms across South West Western Australia, including 6 sites in the Peel-Harvey Catchment.
One of the Peel-Harvey sites in Cookernup was the location for a Field Walk and Talk on Tuesday 24th to give farmers and project partners the chance to see the results of various fertiliser rates and mixes first hand. The Cookernup site is showing minimal pasture growth response between 20kg Phosphorus (P) per ha and 40kg (P) per ha. In other words, by applying an additional 20 kg P per hectare, there is not a significant increase in pasture production (biomass) at this site.
With all 36 farm trials, the uPtake Cookernup site will be maintained and monitored over the next 4 years to assess long-term pasture responses and validate Phosphorus response curves for a range of soil types found in south west WA.
uPtake is jointly funded through the State Government's Regional Estuaries Initiative and the Australian Government's National Landcare Program, and Peel Harvey Catchment Council