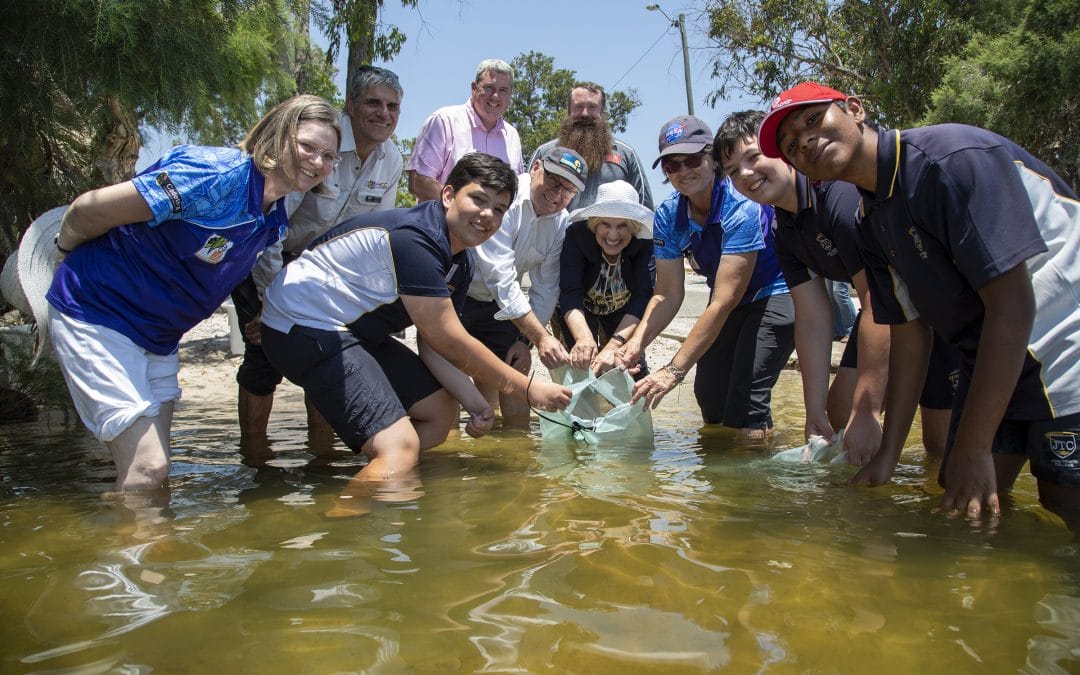 More than 2000 juvenile black bream were released into the Murray River in late December 2019 through PHCC's 'Stock Enhancement of Black Bream in the Murray River' project funded by the State Government's Royalties for Regions program.
Black bream born in the Peel-Harvey Estuary system, including the Murray River, are entirely dependent on the estuary to provide suitable habitat including water quality and food throughout their life cycle from birth to death. They are therefore exposed throughout their lives to environmental threats and because their stocks are only replenished from within the estuary, events such as fish kills can decimate the stock. This project aims to enhance the stocks of black bream by protecting the fish from these threats in their early life stages through an aquaculture program run by students and teachers from John Tonkin College and overseen by scientists from Murdoch University and PHCC.
Just before the release of the bream, these project partners were joined by representatives from Recfishwest, Peel Regional Development Commission and The Nature Conservancy and special guests Professor Lyn Beazley and the Minister for Culture and the Arts, Local Government, and Heritage Hon. David Templeman to take a tour of the aquaculture system at John Tonkin College led by the students. The students shared their learnings with guests and to explain why black bream are considered an important fish species in the Peel-Harvey system. Following the tour of the aquaculture facility, the group travelled to the Murray River where the juvenile bream were released.
This process for aquaculture and release will be repeated in 2020 where we hope to release 5000 juvenile black bream into the river. For full story details, please keep an eye out for an article in our local Mandurah Mail newspaper.
This project is supported by the Peel-Harvey Catchment Council through funding from the State Governments Royalties for Regions Program.