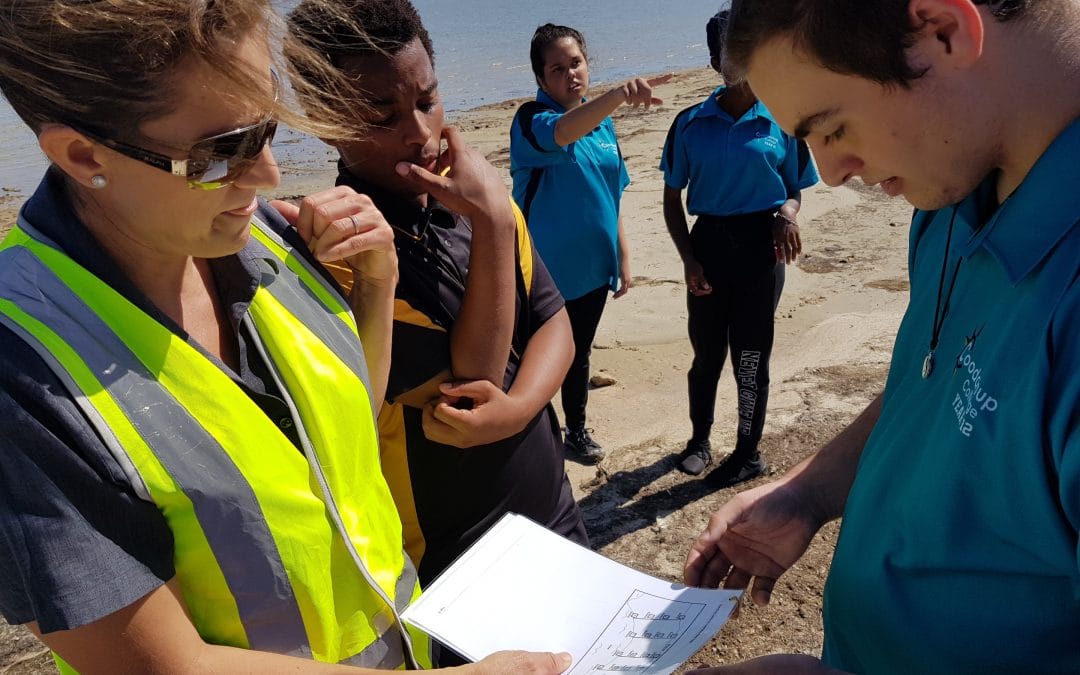 Marine debris has become one of the major environmental issues worldwide and is a serious pollution issue for the Peel-Yalgorup Wetland System which includes the Peel-Harvey Estuary and nearby lakes. Over 7 million tons of plastic litter enter the ocean and waterways every year or approximately 8 million pieces per day. Plastic debris not only directly kills and injures wildlife but leads to great economic costs and losses to people and communities worldwide, including health impacts.
Peel-Harvey Catchment Council's (PHCC) Wetlands and People Coordinator Sharon Meredith has been working alongside Environmental Consultant Kate Born to establish a new citizen science program for the Peel "Peel-Harvey Catchment Council's Micro-Plastic Program." This program measures the extent of micro plastic pollution across shorelines of the Peel-Yalgorup Wetland System.
This program was inspired by Conservation Council of Western Australia and the University of Western Australia "Micro-Plastic Project." Kate Born was heavily involved with this project, coordinating the intensive on-ground surveys and leading citizen science volunteers to take 200 samples of sand from beaches between Geraldton and Esperance.
Understanding how micro plastics impact the ocean is increasing, however, their impact on estuarine systems has not fully been explored. The Peel-Harvey Catchment Council's Micro Plastic Program is the first study in Western Australia looking at the presence of micro-plastics in an estuary. The project aims to determine if the Peel-Yalgorup Wetland is exposed to micro plastics and if their levels can be monitored.
Kate has brought her skills and experience to assist PHCC initiate the citizen science program by designing methodology and exercises that allow high school students to survey the wetland shorelines for micro plastics. Currently, there is no baseline data on the micro plastic contamination within the Peel-Yalgorup Ramsar Wetland.
Kate said that "This program allows students to play a vital role in understanding the extent of micro plastic contamination in the wetland, get hands-on with real-world examples of science and allow them to make a contribution to conserving their local wetland. Involving the community, especially students in citizen science projects helps demonstrate how everyone's actions can make a difference." Coodanup College year 12 students were the first students to pilot the program in April this year taking samples from the Coodanup foreshore.
Science teacher Nicole Entz commented "I am so very grateful that my Year 12 Integrated Science students were given this opportunity to participate in such an experience. I believe it has helped develop their education and emotional connectedness to their own environment. It is an opportunity for them to undertake a positive contribution to environmental activities in what is seen as an overwhelming negative world."
The University of Western Australia is again playing a key role in this new project. Once surveying is complete the samples will be delivered to Dr Harriet Paterson at UWA where together Harriet and Kate will analyse the samples for micro plastics.
Harriet makes the observation that "Plastics in the environment are a problem for all of us and all of our waterways are affected. Estuaries that are open to the ocean get a double hit, as plastic enters from its rivers and the ocean. The problem can be confounded by the size of urban settlements along its shores and the degree to which people use it for recreation and industrial uses."
Peel-Harvey Catchment Council will continue to collaborate with Kate Born aiming to broaden the program and increase student involvement with other high schools from around the Ramsar Site in a bid to build a holistic picture of micro plastic pollution within the Peel-Yalgorup Wetland.