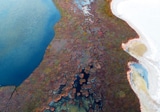 Visitors to the Cape Bouvard Winery/Brewery in Lake Clifton on the weekend enjoyed a display of aerial photos and videos that showcase the beauty of the Peel Region's wetlands and waterways.
The visual display brought together the work of two projects by the Peel-Harvey Catchment Council and City of Mandurah: a drone photo competition 'Wetlands from Above' and the Stretch Art Festival's 'Hydrodome'.
The 'Wetlands from Above' competition, organised by the PHCC, saw local drone operators compete to take their best aerial shots of the wetlands of the Peel-Yalgorup Ramsar Wetlands. Competition winners Natalie Goddard (first prize), Ryan Chatfield and Michael Bond provided spectacular images of the wetlands.
'Drones are part of the disruption revolution helping scientists and natural resource managers monitor and assess the environment. It's been great to see drones also have an artistic side giving us a creative bird's eye view of our amazing wetlands', said PHCC chairperson Andy Gulliver. 'Telling the story of our environment through art allows the community to connect with nature in new ways. We hope the photos encourage people to do their bit to protect the beauty that surrounds us.'
Competition photos were shown throughout the evening on a huge LED screen set to the sounds of live acoustic and jazz performances by local musicians Danny Bau and the Mahara Tocker trio.
The Wetlands from Above photos were complemented by a spectacular night-time light, sound and video artwork called the Hydrodome – a Stretch Arts Festival project.
Standing 6 m tall, the semi-spherical Hydrodome provided a 360 degree screen for a digital film inspired by Mandurah's relationship with water. It has involved the work of artists Justin Wiggan (UK), Bernadette Lewis and David Carson and has engaged over 100 people from the Mandurah community who have contributed to the content of the film and soundscape.
Two domes, one viewed from outside and another from the inside, will be star attractions at this year's Stretch Arts Festival on Saturday 5 and Sunday 6 May, Mandjar Square, Ormsby Terrace Mandurah.
City of Mandurah Mayor Rhys Williams was impressed with how the Hydrodome Project and the Wetlands from Above competition were encouraging the community to take a closer look at our local wetlands and environment.
'This year's Stretch Festival is another opportunity for everyone to get out and enjoy the artistic sights and sounds of Mandurah with friends and family, and appreciate our beautiful wetlands and waterways' said Mayor Williams.
The evening was made possible by the PHCC through funding from the Australian Government's National Landcare Program and the Western Australian Government's State NRM Program. The Hydrodome is part of the City of Mandurah's Stretch Arts Festival.
ENDS
Media Contact: Jane O'Malley, Chief Executive Officer, Peel-Harvey Catchment Council, Jane.Omalley@old.peel-harvey.org.au, (08) 6369 8800
We acknowledge the Noongar people as Traditional Custodians of this land and pay our respects to all Elders past and present