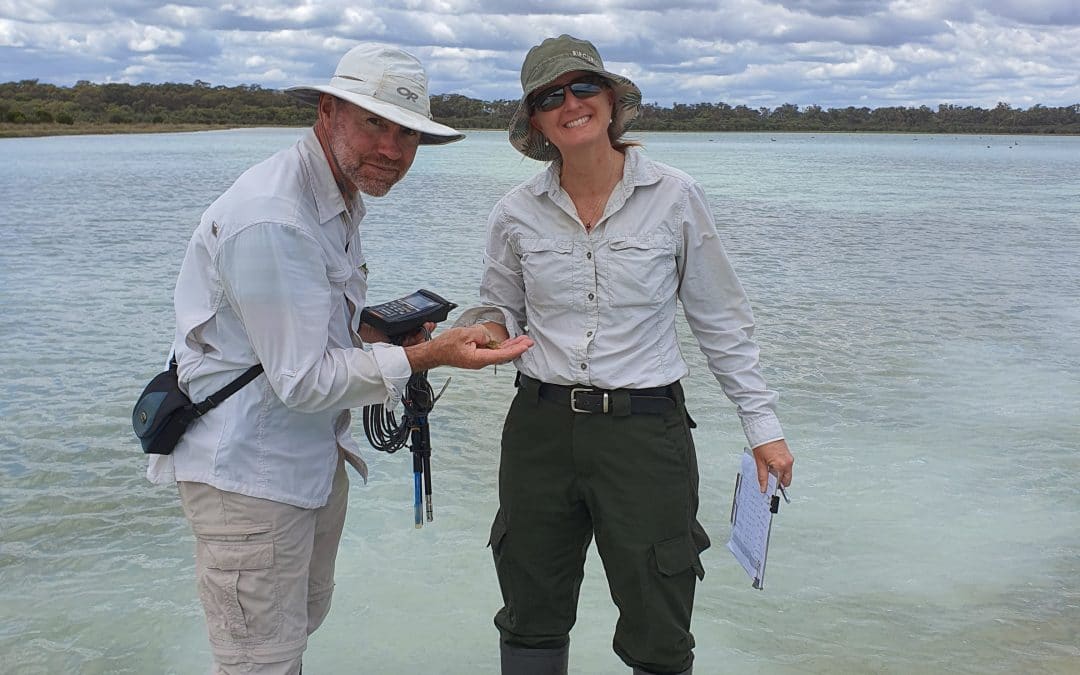 One of the wonderful things about carrying out monthly water quality monitoring of the Yalgorup Lakes is being able to experience the seasons and the changes in flora and fauna associated with this. One such change that we saw this month was the return of Black Swans to Myalup Lagoon.
Black Swans are known to be a nomadic species, moving to different waterbodies throughout the year, depending on a number of factors including their breeding and moulting cycles and where there is food.
The return of swans to Myalup Lagoon coincides with an abundance of aquatic vegetation growing and fruiting at this time of year. This growth is explained by the fact that this waterbody has low salinity compared to many of the other lakes in the Yalgorup system With a salinity of 14 grams per litre (g/L) Myalup Lagoon is much less saline (fresher) than seawater (35 g/L) and considerably fresher than Lake Pollard (80 g/L) that historically supported large swan populations before it became too salty (see the article Lake Pollard: Where Have All The Swans Gone? in this edition of Wattle & Quoll). The comparatively low salinity has provided the right conditions for Foxtail Stonewort, Lamprothamnium sp. to grow and form a significant coverage of the lake bed. This species is a charophyte, a type of benthic algae that can grow in both fresh and slightly saline lakes but cannot tolerate salinity in excess of approximately 70 g/l. The stems and starchy fruiting bodies provide nutritious food for the swans.
With the increasing salinity of many of the other lakes in the Yalgorup Lakes system, it is good news for the Black Swans that they have this oasis of algae at the Myalup Lagoon.
This project is supported by Peel-Harvey Catchment Council, through funding from the Australian Government's National Landcare Program.