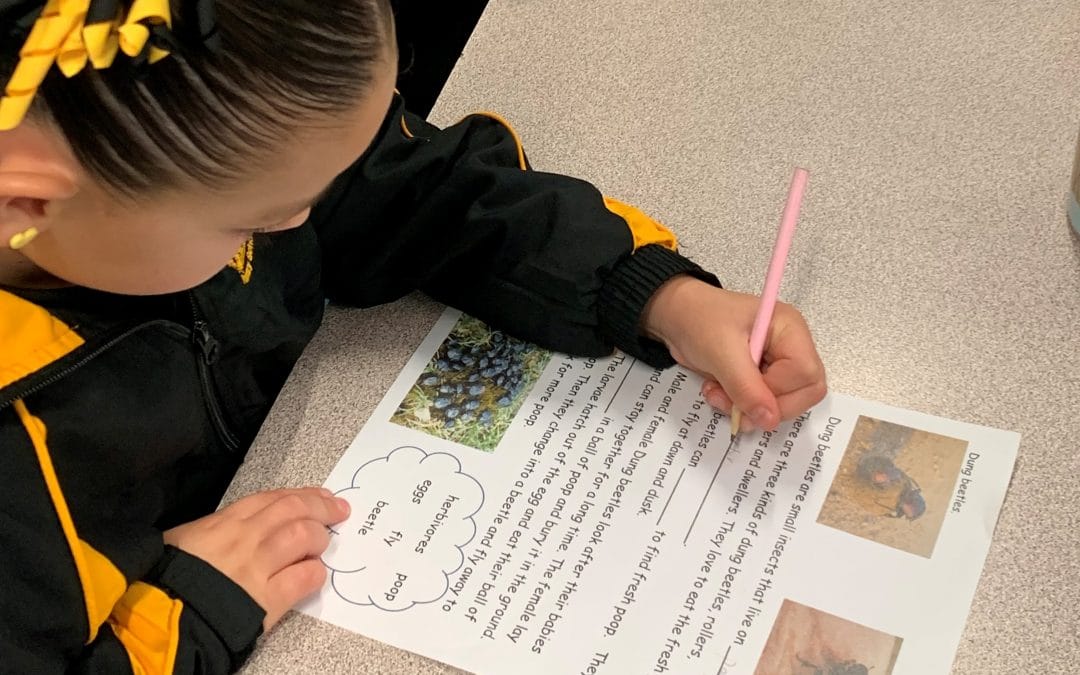 Through our Connecting Corridors and Communities Restoring the Serpentine River project funded by the Alcoa Foundation, students at North Dandalup Primary School are continuing to learn about the fascinating world of dung beetles. This program aims to educate and inspire young people's interest in the environment through a range of integrated STEM (science, technology, engineering and mathematics) activities and provide a 'hands on' experience demonstrating innovative agricultural practices.
The keen interest in dung beetles is evident among the students who are bringing a variety of species they have discovered at home into the classroom. There are 14 species of dung beetle found in the south west of WA (see https://www.dungbeetlessouthwest.org.au/) and so teacher Denise Honeybone, who is championing the program, guides the students by pointing out identifiable features specific to each species. In addition, excitement is growing amongst both students and teachers in anticipation of the emergence of the spring-active species, Onthophagus vacca that the students have been breeding since the beginning of the year. Once emerged, rural properties located on the Serpentine River will be strategically targeted to receive a portion of these beetles to release onto their paddocks. It is hoped that by doing this, populations of Stable Fly a declared pest species will be reduced and pasture health will improve.
PHCC's role is to identify and liaise with landholders interested in receiving the dung beetles and evaluate the success of the program through a State-wide dung beetle monitoring program managed by researchers for the University of Western Australia. In the longer term PHCC intends to expand the monitoring program to track the population of Stable Fly on these properties.
While waiting patiently for their spring-active beetle species to arrive on the scene, students are continuing to actively identify the winter-active beetle species, Bubas bison that have been emerging in the schools neighbouring paddocks. Like many species of dung beetle found within Australia, the Bubas bison is a species native to Southern Europe that was introduced to help improve pasture growth on rural properties. We find established populations of this beetle in pockets of Western Australia as well as, South Australia, Victoria, New South Wales and Tasmania during the wet season.
PHCC will continue to raise awareness about the importance of dung beetles through our usual communication channels and when and where COVID-19 physical distancing restrictions allow, community engagement events. Keep an eye on our social media pages and website for regular updates.
This project is supported by the Peel-Harvey Catchment Council through funding from the Alcoa Foundation's Three Rivers, One Estuary Initiative.