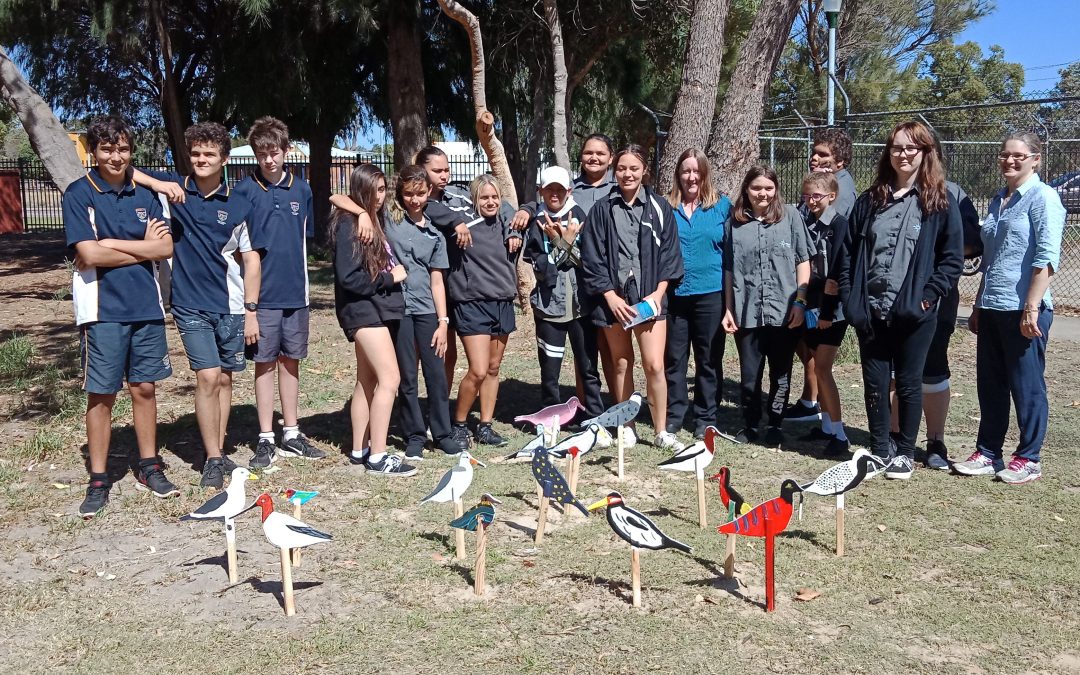 The Stints are Rad project is an educational program designed to teach students about the amazing migratory shorebirds that travel to our Ramsar-listed Peel-Yalgorup Wetland System. The Red-Necked Stint is one of these amazing birds. Weighing approximately 25 grams, less than a Tim Tam, Red-necked Stints fly along a migratory path from the Arctic to Australia twice a year, a return journey of up to a staggering 25,000 km.
The Stints are Rad program was developed by PHCC in 2017 alongside Milly Formby from Wing Threads https://wingthreads.com/ and piloted with John Tonkin College. Milly facilitated the first incursion and taught John Tonkin students about these amazing little birds whilst also sharing her epic story of how she is planning to fly a microlight aircraft around Australia to promote urgent action for migratory shorebirds.
Since then the program has gained momentum and this year has seen increased involvement from the local community. Two Stints are Rad programs have been run in 2019 with local high-schools, John Tonkin College and Coodanup College. The programs have been successful thanks to the support of Milly, local teachers, the Mandurah Men's Shed, City of Mandurah and the John Tonkin College's Bush Ranger Cadets. With this added community support the program has been able to implement a new creative activity called the Flock, originally developed by Miranda Trust in New Zealand, which involves creating wooden shorebird stencils, painting and displaying them.
Each of the groups above played a significant role in the creation of a huge coloured array of shorebird stencils. The Local Men's Shed created and supplied both high schools with over 120 wooden stencils. The Bushranger Cadet group base-coated the stencils. Milly Formby and PHCC's, Wetland and People Coordinator Sharon Meredith taught the students about the migratory birds before instructing the student group to use their creative talents to artistically decorate the stencils. John Tonkin College students and City of Mandurah's Environmental Education Officer Tarnee Rutherford also assisted the Coodanup College students with this activity.
The stencils have become a colourful art installation at both schools and continue to raise awareness in the broader student pool. Amanda Zele, Science teacher at John Tonkin College commented "The students have loved painting the flock, it's got them involved, and they have become advocates for these birds. Last year a group of students presented at Kids Teaching Kids on shorebirds in Mandurah. From there a delegated group went to Kids Teaching Kids in Melbourne. Part of their role this year is to present again at Kids Teaching Kids in Mandurah on the Melbourne Program and on shorebirds. The students have been really keen to get out and observe, they often say to me – I was down the beach and saw this, or I was down the Fairy Tern Sanctuary and saw this. It suddenly becomes embedded in their daily life and they do little things to make a change."
PHCC will continue to run the Stints are Rad program in partnership with Milly Formby and provide opportunities for involvement to other local schools around the Peel-Yalgorup Ramsar Wetland. The Local Men's Shed have already generously committed to creating 200 stencils to help with the next stage of the program.