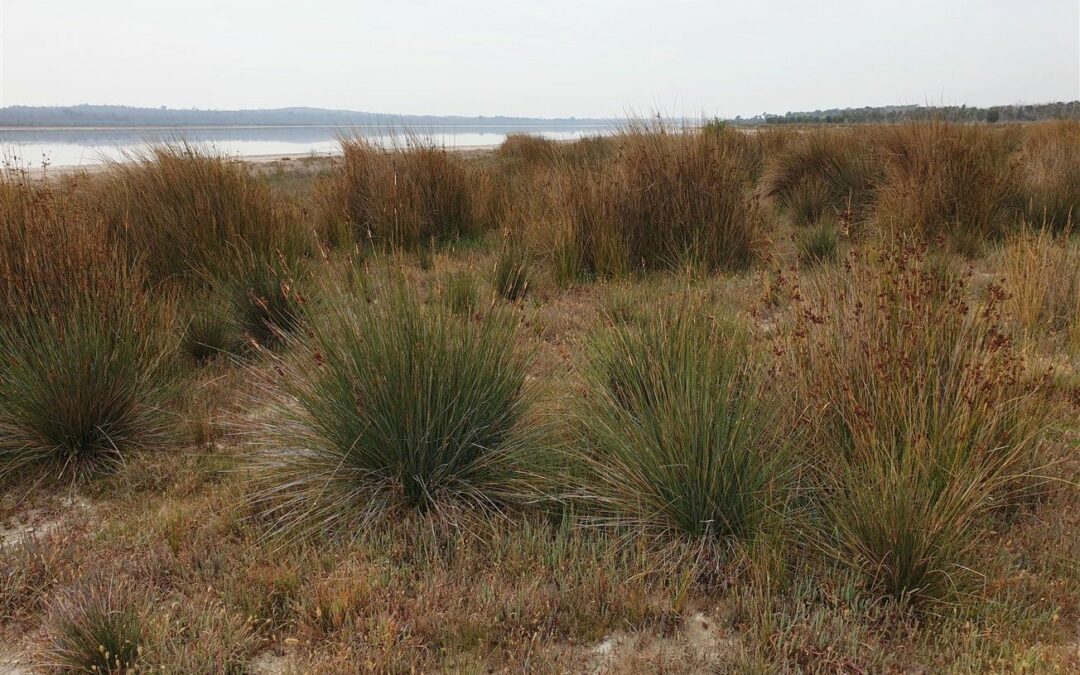 Many weeds have found their way into the Ramsar 482 wetlands, but few have as much impact on the fragile fringing vegetation as Spiny Rush (Juncus acutus) and few are as painful when encountered! You almost need a suit of armour to walk through infestations of what might be the nastiest weed of all.
Spiny Rush is thought to have come to WA from southern and western Europe. It is also known as Sharp Rush with all of its names referring to its stiff, sharp pointed leaves capable of penetrating the thickest of clothing. Mature plants can grow up to two metres tall and repelling the most determined bush walkers. It is a true rush, closely related to common native species Juncus kraussii and Juncus pallidus. A close – up look willreveal Spiny rush's rigid, erect leaves which distinguish it from the local native species, however it often grows intermingled with these native rushes, blending in and making it difficult to recognise and control.
Spiny Rush grows in both salty and freshwater environments. It is well known to Wheatbelt farmers where it invades low-lying saline soils and prevents the use of large areas of farmland for livestock grazing and cropping. It has crept into other areas of the state too, including the Perth region. Until recently, Spiny Rush was virtually unknown in the Peel-Yalgorup wetlands but that all changed in 2020 when PHCC followed up on two reports from the north end of Lake Preston. After discussions with the Department of Biodiversity, Conservation and Attractions (DBCA), and the Shires of Waroona and Harvey, PHCC sent weed control contractors out to selected parts of the lake to treat several small infestations as part of the Australian Government – funded 'Wetlands and People' project. Although we anticipated that we would find more Spiny Rush, no one was prepared for the extent of infestation. Spiny Rush was spotted in most areas searched. Our plan for the initial works changed from being a spraying job with a bit of mapping to a large-scale mapping job with a bit of spraying. Scattered patches were mapped right along the western and eastern shores. Whole some patches were hundreds of metres long while others, had just had a few plants. Several old plants two metres tall and two metres across were discovered while other plants were less conspicuous hidden among native rushes or present as many tiny seedlings that could easily be overlooked..
It was clear from this that the species posed a serious threat to the ecology of the lake, and so its control was a high priority. In 2021 we commenced a campaign to treat the remaining mapped patches which is still continuing today with follow-up treatment and more searching and treatment of any remaining patches. By the end of the 2022 program, it is expected that every major patch of Spiny Rush around Lake Preston will have received at least one treatment and most will have been treated two or three times.
Spiny Rush is not only a particularly nasty weed, it is also a notoriously difficult species to control, often requiring at least three to four spray treatments to eradicate. Lake Preston spans a huge area and extra monitoring is essential to pick up the inevitable hidden plants and surviving stragglers that just seem to be tougher than the rest. Furthermore, seeds can stay viable in the soil for several years, which means that monitoring must be carried out for years after the last mature plants are controlled. While it was recognised soon after work started that eradication at Lake Preston wouldn't be possible during the five years of the 'Wetlands and People' project, we hope that after three continuous years of work the Spiny Rush infestation is now far more manageable and we have significantly reduced the risk to the wetlands.
This project is supported by PHCC through funding from the Australian Government's National Landcare Program