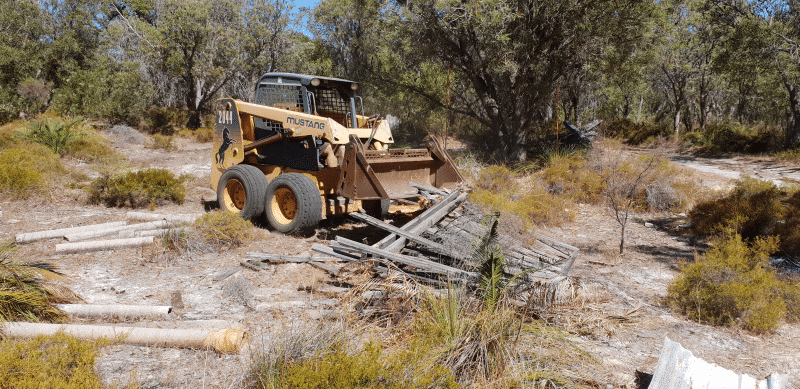 On 25th March, the peaceful wetlands and bushland of the Peel region were disturbed by the roar of trucks and machinery as contractors moved in for Peel-Harvey Catchment Council's big clean-up project. Volunteers from Lake Mealup Preservation Society and other local residents worked hard collecting rubbish out of the bush and stockpiling it ready for the contactors to pick up and take away. There was the usual household rubbish, beer bottles and cans but also dumped truck tyres and building materials including sheets of corrugated iron, bricks and heavy chunks of concrete. One unusual item was the remnants of an old horse-drawn buggy half-buried under twigs and thick leaf litter. In all, two truck-loads of old junk and rubbish weighing several tonnes was collected from multiple sites around Lakes Mealup and McLarty, and at Robert Bay and then disposed of at a sorting and recycling facility.
With the old adage "rubbish attracts rubbish" in mind, it is hoped that this rubbish removal will benefit the wetland vegetation and bushland for many years to come and challenge the old mindset of a minority who still see bushland as a convenient dumping ground. The bush clean-up work was carried out under PHCC's Wetlands and People project, funded by the Australian Government's National Landcare Program.  It was conducted as part of Clean Up Peel Waterways which ran for the month of March across the Peel-Yalgorup Ramsar wetlands. 
PHCC would like to acknowledge Lake Mealup Preservation Society and local volunteers for their support and dedicated work in helping to make the clean-up day a big success.